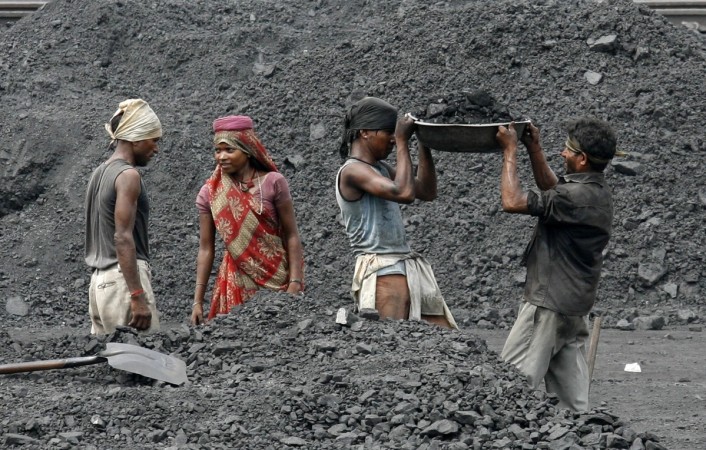 Coal India (CIL) shares have spurted almost 10 percent this week on a spate of positive news, the latest being its output and offtake figures for May reported on Thursday. A few days ago, the state-run miner had announced an average 6.3 percent price hike on coal sold through the fuel supply agreement (FSA) route.
On Thursday afternoon (2.50 p.m.), the CIL stock was trading at Rs. 307.75, up 3.65 percent from its previous close. The stock has rallied almost 10 percent from its closing of Rs. 281.35 last Friday, the day it announced the price hike.
The Sensex was trading 140 points higher at 26,854 at around 3 p.m. on Thursday.
In a regulatory filing to the BSE, the world's largest miner said that production at its eight subsidiaries was 42.58 million tonnes in May, 95 percent of the month's target of 44.64 million tonnes. The output was up from 40.1 million tonnes in the previous month.
Offtake for the month stood at 45.53 million tonnes, falling 11 percent short of the target fixed at 50.90 million tonnes. May offtake marked an increase from 42.4 million tonnes in April.
Coal India ended financial year 2015-16 with an output of 536.5 million tonnes, 8.6 percent higher than the preceding year's 494.23 million tones. However, the output was short of the targeted 550 million tonnes for financial year 2015-16.
Coal India meets about 81 percent of India's coal requirement from its 430 mines, of which 227 are underground, 175 open-cast and 28 mixed ones.
India saved about Rs. 28,000 crore (about $4 billion) in coal imports during financial year 2015-2016 as a result of record output by Coal India. In terms of quantity, coal import declined by about 27 percent.
"Record coal production by CIL leads to a reduction in import by 34.26 million tonnes (MT). Results in a saving of Rs 28,070 crore in foreign exchange during 2015-16," tweeted Coal Secretary Anil Swarup in April.
"Coal imports came down by 27.4 percent from 27.4 MT during 2014-15 to 15.54 MT in 2015-16," he further tweeted.