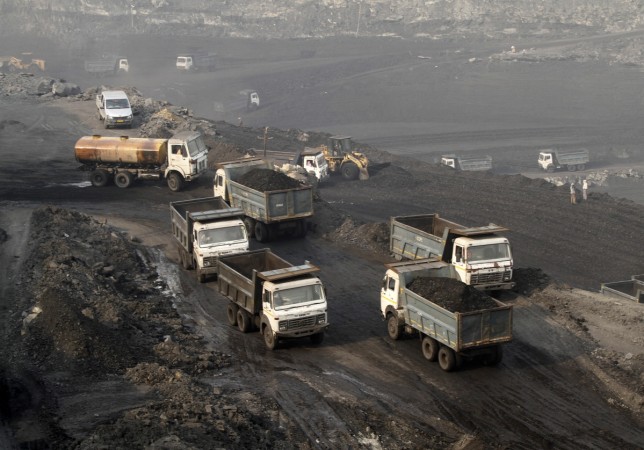 State-run Coal India Ltd (CIL) ended financial year 2015-16 with an output of 536.5 million tonnes, 8.6 percent higher than the preceding year's 494.23 million tones. However, the output was short of the targeted 550 million tonnes for financial year 2015-16.
The mining company informed stock exchanges about its financial year 2015-16 provisional output data Friday.
CIL produces about 81 percent of India's coal requirement from its 430 mines, of which 227 are underground, 175 open-cast and 28 mixed ones.
Singareni Collieries Company Ltd (SCCL) more than doubled its profit to Rs. 1,020 crore in 2015-16 from Rs. 490 crore the company earned in the preceding financial year.
Its revenues stood at Rs. 16,516 crore during the financial year ended March 2016, up 17.3 percent from Rs. 14,078 crore in financial year 2014-15, while output rose 15 percent to 60.43 million tonnes from 52.54 million tonnes in financial year 2014-15, reported the BusinessLine.
The company was on course to sustain the growth momentum in the next five years, according to its Chairman and Managing Director N Sridhar. "The company has programmed to sustain this growth over the next five years and expects to grow at double digit year-on-year."
"We are targeting total output of 100 mt during 2020 up from 60 mt this year. This will be achieved by opening 25 new mines, seven of them this year, entailing a total investment outlay of ₹20,000 crore," he added.
SCCL, jointly owned by the government of India and the Telangana government, has planned capital expenditure of Rs. 4,000 crore and output of 66 million tonnes for the current financial year.
SCCL will be setting up 10 coal washeries during the year, entailing an investment in the range of Rs. 60 crore to Rs. 100 crore, the daily said.
CIL plans to set up 15 washeries with an aggregate capacity of 112.60 million tonnes per year, according to its annual report for 2014-15.
It also has a five-year, Rs 57,000-crore investment plan to double output to 1 billion tonnes by 2019-2020. The investment is also aimed at curbing import of coal, which has shown a declining trend in the first seven months of 2015-16 over the corresponding period of financial year 2014-15.
The CIL stock closed at Rs. 287.80 Friday on the BSE, down 1.44 percent from its previous close.