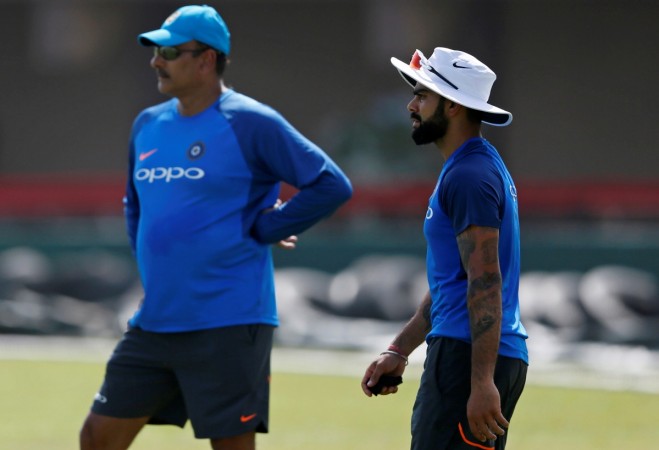 India's head coach Ravi Shastri today (January 22) sent out a message to the Board of Control for Cricket in India (BCC) following the Test series loss to South Africa.
The Virat Kohli-led side have surrendered the three-Test series to the Proteas 0-2 with the third and final Test to be played in Johannesburg from January 24.
Also read: SA-India series schedule, squads, live stream info
Ahead of the game at The Wanderers Stadium, Shastri said 10 more days of preparation in the "Rainbow Nation" could have made a difference to the results in Cape Town and Centurion.
"First of all, overseas conditions. Conditions back home, we are familiar with. We shouldn't be in positions where you have to fight back (in India). That is the bottom line as far as I am concerned. We fought back, we did well. Here conditions are different. In hindsight I would say another 10 days of practice here, would have made a difference. But that is no excuse," Shastri told reporters on Monday when asked about the team's ability to bounce back in India and having failed to do the same in South Africa.
He continued, "The pitch we play on, it is the same pitch for both sides. And I would rather focus on 20 wickets we have taken because that has given us chance in both Test matches to win games. Yes, our top order, if we can fire, it will be a good Test match."
When queried whether the Test specialists could have reached South Africa early, he said there were thoughts but did not materalise. He also said he was sure BCCI would do the scheduling for future tours better and insisted that a couple of weeks of preparations were needed in overseas conditions.
"There was a thought but then you are disjointed. Even as a team you are disjointed as to who will handle things here - preparation-wise. Those thoughts can be put in hindsight. But in hindsight I would say the best thing would be to reach there as a team two weeks earlier.
"Unfortunately the schedule was such that you had matches. But I am sure, henceforth in future, when itineraries are made, that will be taken into account, there is absolutely no doubt about that. You get there couple of weeks earlier and then prepare," he said.
Before India arrived in South Africa to play the Tests, they were involved in series across formats against Sri Lanka at home. Many had criticised for inviting the islanders and some described it as "meaningless" matches.