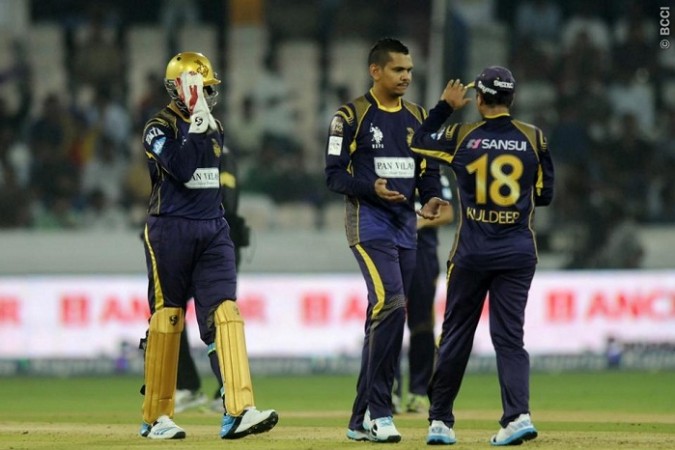 The Chennai Super Kings' chances of winning their second Champions League T20 title improved considerably after KKR talisman Sunil Narine was suspended from bowling in the final.
Narine was reported for an illegal bowling action in the Knight Riders' final group game against the Dolphins. That meant while the spinner could bowl in the semifinal against the Hobart Hurricanes, he would be suspended if reported again.
That is precisely what happened after umpires Rod Tucker, S Ravi and Vineet Kulkarni noted issues with the bowler's action in the semifinal on Thursday as well.
"Sunil Narine has been suspended from bowling in CLT20 due to a suspected illegal bowling action," the Champions League T20 told in a statement on their official website.
"Kolkata Knight Riders player Sunil Narine will not be eligible to bowl in the Oppo CLT20 final following a report on his suspected illegal bowling action.
"Mr Narine was reported for a second time in as many matches over a suspected illegal bowling action during this evening's Oppo Champions League Twenty20 semifinal game against the Hobart Hurricanes at Rajiv Gandhi Stadium, Hyderabad.
"After all video evidence of the match was taken into account, on-field umpires Rod Tucker and S. Ravi along with third umpire Vineet Kulkarni felt that there was a flex action in his elbow beyond the acceptable limit when bowling during the match.
"Under the CLT20 Suspected Illegal Bowling Action policy, if a player receives a report while on the warning list, the player shall be suspended from bowling for the remainder of the tournament and from bowling in any matches organised by the BCCI until such date as he is cleared."
While only three of Narine's balls were put under scrutiny the first time around, this time the umpired had issues about several more. Narine picked up one wicket in the first innings for KKR, conceding just 24 runs.
"It was three deliveries in the last match," an official told ESPNCricinfo. "But this time all his four overs were reported."
Losing Narine for the final will be a massive blow for KKR, who rely on the spinner's ability to not just keep the runs down, but also pick up wickets.
While Narine can be picked by the IPL 2014 champions to play in the finale, it will be a little pointless as he will not be allowed to bowl.
The spinner's confidence might also take a big hit due to the reports, with West Indies also fretting a little as they prepare to take on India in a full series, which includes five ODIs, one T20I and three Test matches. Narine will be able to bowl during the series.
KKR coach Trevor Bayliss said he is not worried about Narine's action issues prior to the semifinal against the Hobart Hurricanes, and the spinner's West Indies teammate Darren Sammy also believes the Trinidadian will come out firing.
"I am not worried," said Sammy after landing in India on Thursday. "Narine is a champion. Even if they stop him from bowling the faster ball, he is still the most dangerous spinner in the world.
"I believe that he will still be a great asset to us. He will do whatever he has to do and have all his different tricks up his sleeves by the time the World Cup is here. I still feel he will be our champion spinner."