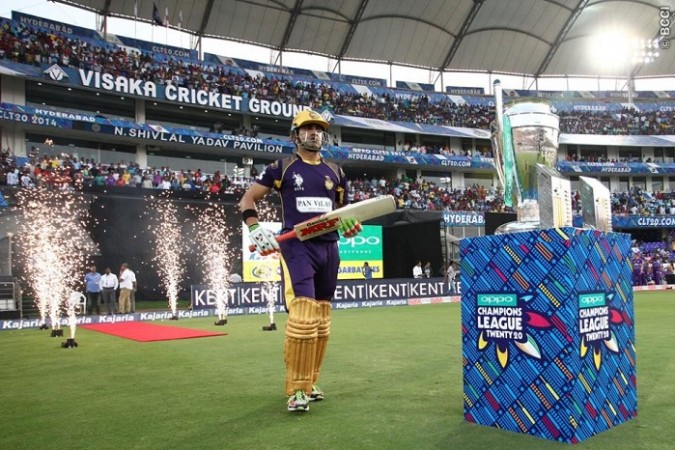 Two IPL teams, filled with superstars made for the T20 don't-take-your-eyes-off-it-or-you-will-miss-a-six game, will resume their battle in what looks like being a cannot-miss-it-for-anything Champions League T20 2014 final.
Get the CLT20 2014 Final TV and Live Streaming Information HERE
The Kolkata Knight Riders are in irresistible form, while the Chennai Super Kings are the masters of the big games. KKR are looking for that wonderful double of the IPL and CLT20 title in the same year, while CSK are desperate to regain the CLT20 title they won a few years ago.
If you look at it from all angles, there is one intriguing battle after another. The most interesting of them, though, is between the captains – Gautam Gambhir and MS Dhoni.
Two very good friends off the field, but two terrific competitors on it, albeit in two totally different avatars.
While Dhoni is your quintessential calm, cool and collected captain, unflappable and emotion-shorn, Gambhir is all about the emotions; someone who can lose his temper in the blink of an eye for a mere wide delivery.
Both captains, though, are quite good for their sides. CSK function like clockwork under Dhoni, while KKR are built on Gambhir's passion.
KKR also have the slight psychological edge in the fact that they have beaten CSK before in a major final – the IPL 2012 summit clash – before, while they also got the better of the Super Kings in a group game earlier in the tournament. But then, CSK are past masters of winning major tournaments, including multiple IPL titles and one CLT20 crown.
The Chennai Super Kings showed their big match nous in the semifinal against the formidable Kings XI Punjab on Thursday, coming back from a tricky situation when they were three down for little to post a score of over 180, before bowling out arguably the best batting lineup in the tournament for just 117.
CSK are littered with exceptional leaders in their side. Apart from Dhoni, they have Suresh Raina, Brendon McCullum, Dwayne Bravo and Faf Du Plessis who have all captained their country at one point or another.
While Dhoni is the undisputed leader, the leadership and experience in the side does help them get out of tricky situations.
"We played a really good game of cricket," said Du Plessis to the CLT20's official website after the big 65-run win over Kings XI. "There were two occasions where we were under pressure tonight with the bat.
"We were 41 for 3 and then 141 for 6, that too in a big game, that can always swing either way. We handled the pressure really well with the partnership between me and Dwayne Bravo.
"And in the end Jaddu (Ravindra Jadeja) got us to a very good score. It is always nice to bat first and put a lot of runs. Then when you get a couple of quick wickets early on you do feel the pressure batting second."
KKR, though, are on an incredible 14-match winning run, and are as high on confidence as you can get. They were brought back down to earth, though, on Thursday, with Sunil Narine being reported for a suspect action a second time in this CLT20 2014.
That means their premier bowler will not be available for the finale against CSK, and that will, undoubtedly, hurt KKR.
However, there probably is no better captain than Gambhir to rally his team around during adversity, and against CSK, KKR cannot afford anything short of a 100 percent.
CLT20 2014 Final Schedule:
Saturday, 4 October: Final: KKR vs CSK (7 pm IST, 2.30 pm BST, 9.30 am ET) at M Chinnaswamy Stadium, Bangalore.