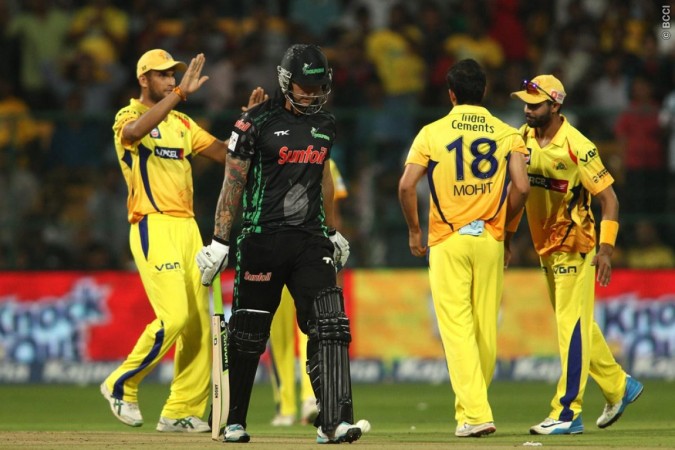 Dolphins' opener Cameron Delport produced a thrilling performance against Chennai Super Kings on Monday, slamming 34 runs of just nine balls.
The 25-year-old impressed the fans, and he now hopes to debut in the India Premier League (IPL) next year.
"I have really enjoyed it and I am sure my teammates have too. I watch the IPL and the CLT20 every year and I have always wanted to be a part of these tournaments. To finally be here in this country playing in these big stadiums is an experience that will help me grow as a cricketer," Delport said in an interview with clt20.com.
"I want to continue to be part of these tournaments in the future as well."
Delport played a major role in Dolphins' high-note start. He completely smashed CSK's bowling line-up during the nine balls he faced at the crease. He managed to make 14 runs off Mohit Sharma before he got out.
However, despite the start Delport gave, the Dolphins could not chase down CSK who set up a target of 243 runs.
"We knew that the wicket was really good and we wanted to get off to a really good start. Our game plan was to take the attack to them and look for a couple of early boundaries and put them on the back foot right since the beginning," the South African said.
The deliveries Delport faced read 3wd, 4, 6, 4, 6, 4, 4, 2, 4 before he misjudged a slow delivery by Sharma and got out.
"Yeah, I know. I knew he (Sharma) was going to bowl a slower one and I was telling myself to just wait for it. It kind of skidded off and hit the top of leg-stump. I knew he was going to bowl it and I can't believe I missed," the batsman revealed.
Delport is the leading run-scorer in the Ram Slam T20 challenge. He said that the Dolphins are preparing well under coach Lance Klusener and his tactics and theories reflect in their playing style.
"He is fantastic. He is nice and relaxed and he just asks us to play one ball at a time," Delport pointed out.
"His theory is that we are not going to just stay back and wait for things to happen; we are going to take the attack to the opposition. And that theory is reflected in the kind of cricket that we play."