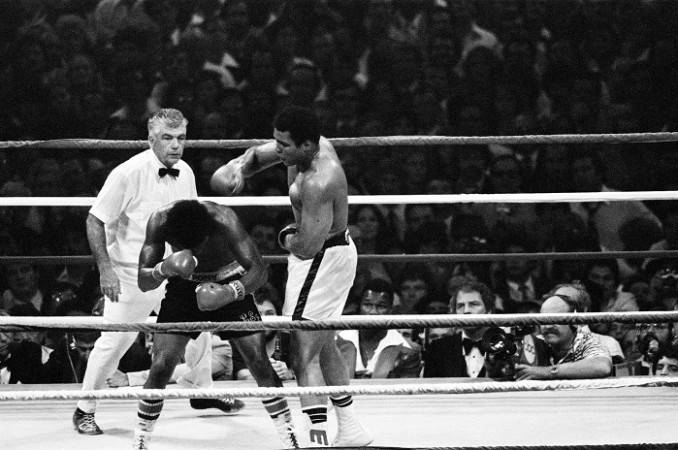 The greatest boxer of all time, Muhammad Ali, took his last breath in a Phoenix hospital, aged 74, on Friday, after battling with Parkinson's disease for 32 years. Ali's body was flown down to Louisville, his hometown, on Sunday, ahead of his funeral on Friday.
Though one is aware of his fighting qualities inside the ring, where he dominated opponents with his skill and power, he was also a brave fighter when it came to his personal battle against Parkinson's disease. Doctors had initially told him that he would only survive for 10 years with Parkinson's disease, but Ali, the person he was, survived for more than 30 years, since being diagnosed with the illness.
Tim Shanahan, Ali's close friend, talked about how the boxer spoke to him in the past about surviving more than 10 years with the disease.
"Muhammad wanted to achieve so much he refused to let an opponent like Parkinson's stand in his way. He say 'Tim, do you remember in 1986 when the UCLA doctors told me that I had Parkinson's and I had 10 years to live, maybe 15? Well, I am still in the fight 30 years on and I shook up the world again." Daily Mirror quoted Shanahan as saying.
However, prior to his unfortunate illness, Ali had enjoyed a wonderful career, winning 56 of his 61 fights. There were some wonderful moments in his illustrious career, including victories over Joe Frazier in 1971, George Foreman in 1974. However, his victory over Sonny Liston in 1964 for the world title was the one which Ali considered to be his biggest achievement inside the boxing ring.
Ali was afraid going into the fight as a 22-year-old, fearing for his life against Liston, but the American boxer gathered courage to beat his opponent.
"When I was 22-years-old and had to face that big ugly bear, that ex-con who was going to 'kill me' in the ring, I was scared. Then the fight started and after the first round I realised that I could actually beat this big ugly bear. I was no longer scared, but, rather excited the moment that I realised this. Winning the Heavyweight Championship at the age of 22 was the most memorable fight for me." Shanahan recalled Ali saying to him.
Though he might be remembered for his performances inside the ring by many around the world, Ali will always be remembered by his close friends and family members as a fighter, who fought Parkinson's like no other, reflecting his never-say-never attitude.