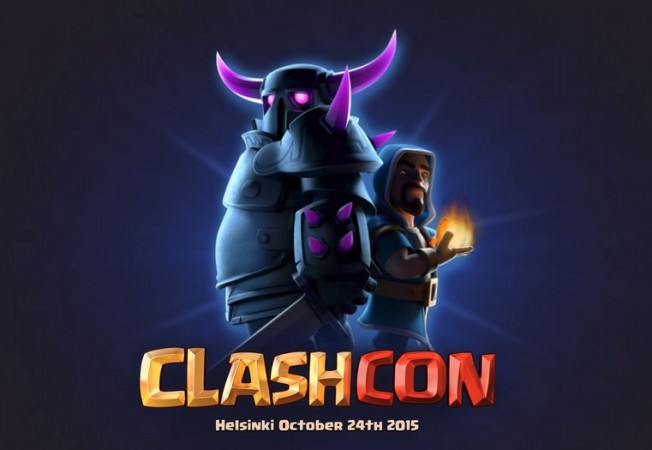 Clash of Clans is all set to get its own first big event with Supercell's ClashCon 2015, which will be flooded with Clashers (Clash of Clans players) at Helsinki Exhibition and Convention Center, Finland on 24 October, 2015.
Supercell has teased that this new event will have Clan War tournaments, Clash Swag, attack and defence panels, where the participants will be able to meet the development team behind the game and promising more.
ClashCon event is scheduled to start at 12:00 pm local time and will continue till 9:00 pm. The event will see participants from more than 30 different countries, according to the official website.
The participants can also expect to lay hands on some free T-Shirts and special gifts.
Where to Watch - Live Stream
Supercell is also offering to live streaming facility to those Clashers who are unable to make it to the event.
It promises that it will give "full, in-depth coverage" with its hosts, Chief Pat and Galadon.
The live stream is available on:
Featured Guests
Supercell has revealed a list of guests (also YouTubers) who will be featured at the event. Some are Chief Pat, Galadon, ClashWithAsh, Molt, Alvaro845 and Godson.
[READ ALSO: ClashCon 2015: First Clash of Clans community event, everything you need to know]
Event Schedule
Below is the event schedule:
11:00 Registration Begins

12:00 Doors Open

12:15 Welcome to ClashCon

CEO Ilkka Paananen and the Clash Game Team

13:00 Activities, Workshops and Merchandise Shop Open

13:00 Clan War Quarterfinals

Glory China I vs. Logic Donators

Glory China II vs. 대한민국•KOREA

14:10 Break

14:20 Panel Discussion

How to Run a Successful Clan

Hosted by ClashOnGan, TheGreatLach, Rlight, Alvaro and James

15:00 Break

15:10 Clan War Quarterfinals

Team Finland vs. Sweden 1 Star

Wild Card vs. Sweden 2 Star

16:25 Break

17:00 Panel Discussion

How to Win Every Single Clan War

Hosted by Alvaro, TheGreatLach, Yesiac, ClashWithAsh and Rold

17:40 Break

18:00 Clan War Semifinals

19:20 Break

19:30 Clan War Friendly

Clash of Clans Game Team vs. Mild Aggression

20:00 Activities, Workshops and Merchandise Shop Close

20:00 Clan War Finals

21:00 Doors Close
WORKSHOP 1

Learning Sessions

13:00 - 13:45

Spells 101 - Master The Magic with ClashOnGan

14:00 - 14:45

Attack Strategy 101: GoWiPe with Daddy

15:00 - 15:45

Attack Strategy 101: Three Star Lavaloonion with Clash With Ash

16:00 - 16:45

Spells 101 - Master The Magic with ClashOnGan

17:00 - 17:45

Attack Strategy 101: GoWiPe with Daddy

18:00 - 18:45

Attack strategy 101: Three Star Lavaloonion with Clash With Ash

19:00 - 19:45

Spells 101 - Master The Magic with ClashOnGan
WORKSHOP 2

Roundtable Discussion

13:00 - 13:45

Lavaloonion with James, Rold, TheGreatLach and Rlight

14:00 - 14:45

War Strategy with Rold, Yesiac, Clash with Ash and DonJon

15:00 - 15:45

Townhalls 7-10 with DonJon, Yesiac, Daddy and Rold

16:00 - 16:45

Layout Clinic with TheGreatLach, DonJon, Rlight and Alvaro

17:00 - 17:45

Attack Strategy with James, Rlight, ClashOnGan and DonJon

18:00 - 18:45

Spells with Daddy, Rold and James and DonJon

19:00 - 19:45

GoWiPe with Alvaro, Yesiac, Daddy and Rlight