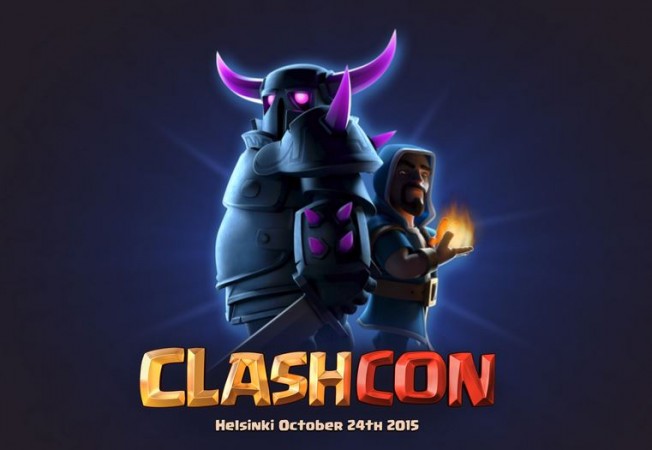 Supercell, the developer of the popular tower defence mobile video game -- Clash of Clans, is getting its Clash community from around the world together at a single conference for the first time for ClashCon 2015.
Where and When?
ClashCon 2015 is scheduled to be held on 24 October at the Messukeskus Expo and Convention Centre in Helsinki, Finland. The event will start at 12 pm local time and conclude at 9 pm.
Tickets Cost and Bookings
The tickets for the event will cost 99 Euros (Day Pass) and the participants will be given access to the event. The tickets will be inclusive of food, beverages, Clash loot, workshops, contests, opportunity to meet with top YouTubers and Clans, and more. Supercell revealed on its FAQ page that no tickets will be sold at the entrance of the event and they have to be purchased online.
The fans of Clash of Clans can buy tickets here, but they must be above 18 years of age to attend the event. These tickets are non-refundable.
Attendees
The attendance at ClashCon will include participants from more than 30 different countries from the US to Australia, Russia to India.
Events Planned at ClashCon 2015
Tournament: The conference will feature some of the top Clashers fighting in epic Clan War Tournament. This will be held on the main stage.
Workshop: The event will also include workshops with some of the top Clashers on how to get three stars in Attack Strategy Workshops. In How is my Base? workshop, the participants will see how the base stacks up and here, they will learn about the best layout, upgrades, base building.
Panel Discussions: The participants can learn how to win every single Clan wars in The Art of War. Another panel will be the Attack Strategy Panel: Ground or Air?, where top Clashers will discuss about the composition of the army in the game.
Challenge: The event will also have some Single Player Challenge, where participants can test their skills on how fast they can defeat the Goblin Horde.
5-on-5 Clan War: The participants have a chance to be on the main stage and be in the finals of Clan War if they join the 5-on-5 Clan War.
Free T-Shirts: The participants will get free T-Shirts. Apart from that, Supercell has also promised that the attendees will receive special gifts.