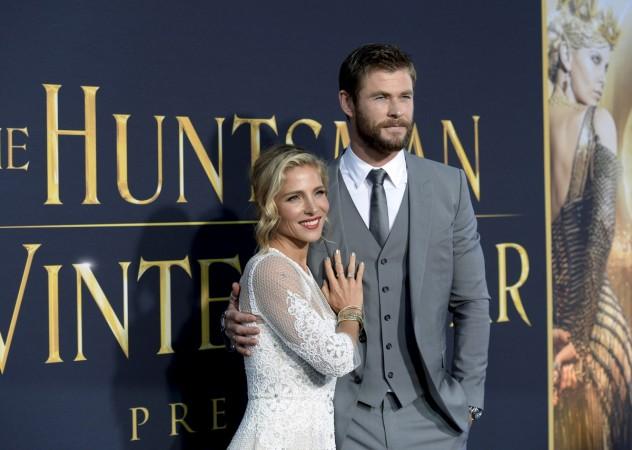 Chris Hemsworth and Elsa Pataky are again hit by rumours that their marriage is in trouble. A magazine has come up with claims that the Spanish actress is unhappy with the Thor actor for putting work before his family.
During an interview with GQ, the 35-year-old actor admitted that he asked Elsa and their three children - daughter India and twin sons Sasha and Tristan, not to visit him for three-and-a-half weeks, while filming for his new movie Bad Times at the El Royale. He shared that he took the harsh step so he could focus on his work.
"Normally I come away with my family. We arrive in a city. I rush off to work, do my prep. Rush home, kids, family, my wife. Next morning, up again, trying to fit in some training. Rush home, feed the kids," he said.
"Elsa ended up having a job at the same time, so it was fine but I actively chose to have it be a solo mission. It allowed me to selfishly focus just on this character. I would wake up and think I can actually go to work and think about the character and then I would come home and think about the character then, too, and dig into books and ideas and things that I hadn't before. I just hadn't been able to go to that place for a while. It was a combination of being both exhausting and a lot of fun," he added.
OK! Magazine stated that Elsa was tired of Liam Hemsworth's brother putting his work before family. An alleged source said: "She had to do everything: arrange childcare, cook for them, bathe them — all while working on a project of her own."
"Chris just expects her to suck it up, but she's growing really tired of him putting his work on a pedestal. She wants them to be equal partners," the insider stated.
However, this report seems absurd as in the same interview, Chris gushed about Elsa and his family. He said: "I do wonder sometimes, if we hadn't met, what my career would look like. Have I made decisions based on that? How has that influenced me? There's times when I've thought, 'Wow, because having kids is more important to me, some of my roles have suffered'. There's definitely a couple of films I could've put way more energy into but I was like, 'No, I'd rather be with my kids'".
"I don't regret that but I'm aware. You can't completely dismiss what that pursuit does for you either. I often find myself saying it's all for my family but in all this I definitely have personal things I need to achieve, too. The difference is you have to open yourself up and go, 'Well, you had kids so you forfeited a bit of that'. It can't be a truly individual, selfish endeavour but we still need to take care of our own. Now my identity is another team, another community – the community being the family. You have to adapt and be malleable," he shared.