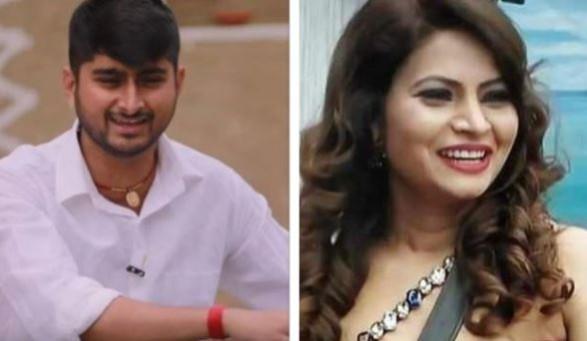 09.53: Sreesanth enters next and gives Somi green chillies to have. Somi eats them with anger. Romil secretly applies honey on the hands of Somi. Housemates get angry at Romil for doing this. Somi quits and leaves the compartment.
09.47: Srishty gives half a glass of tobasco to Somi. Within minutes, Somi pukes it out. Rohit gives chilly sauce to Somi which she eats slowly. Housemates are seen asking her to quit but Saba asks her to stay put.
09.43: Sreesanth, Dipika, Urvashi and Srishty are seen discussing whom to send to the kaal-kothri this weekend. Saba ties her best to convince Megha to quit the task. Meanwhile, Dipika asks Karanvir to go to Sreesanth and discuss the matter. Karanvir and Dipika both start talking about how Sreesanth is playing and changes his decision every time.
09.37: Saba and other contestants try to make Megha understand that she should rather quit than worsening her health. They ask her to leave the baggage of the show she has won behind her and quit. Megha retorts saying they are the ones who are scared of her and she would remember everything everyone has given her to eat.
09.34: Rohit gives Megha a bowl full of chilly sauce which she eats with tears pouring down her eyes.
09.30: A major fight breaks out between Jasleen and Surbhi over the rules of the game. Srishty gives Deepak several green chillies to have. Sreesanth brings a bowl full of honey and gives it to Deepak. Urvashi gives a karela (bitter-gourd) to Megha which she eats slowly.
09.27: Dipika and Srishty try to convince Sreesanth and tell him to support Deepak and let him be the captain. They decide once Deepak becomes the captain they would not do any of the tasks or co-operate with him. Karanvir gives a bowl of chilly sauce to Deepak and asks him to have it. Deepak tries to have three spoons of chilly.
09.24: Sreesanth discusses Dipika with Jasleen and says that Dipika is getting insecure of Megha because she has taken over the kitchen and is already a winner. Rohit gives Megha a glass full of wasabi mixed with water to drink. Deepak and Somi request Megha to let them win the captaincy task. Romil gives Megha a full glass of plain water to drink and pleads with her to let the other two win.
09.20: Dipika tries to convince Sreesanth that they should support Somi and not Megha. She also says that Megha has already one season and thus they should let Somi win. Sreesanth decides to support Deepak. Karanvir also decides to support Somi. Megha is shocked with Sreesanth's sudden change of mind.
09.18: A fight ensues between Sreesanth, Romil and Surbhi. Surbhi and Romil ask him to play in his limits. Sreesanth mixes detergent with milk, seeing which Bigg Boss calls Shivashish to his room and asks him take action. Shivashish rejects all the mixtures and informs the housemates that all the mixtures would have to be made in front of him.
09.15: Captaincy task involving a train begins. Shivashish is announced as the mentor of the task. Somi, Megha and Deepak enter into the coach of the train that is kept in the garden area. Housemates are provided good and bad food items like - tobasco, eggs, chillies, honey, juice, water etc to give to the contestants. Contestants will either have to drink it or come out of the compartment.
09.11: Urvashi and Srishty are seen discussing Deepak's strategy. Sreesanth says that he would never talk to Deepak again. He also says that he forget all the songs he has written for him. Jasleen, Deepak and Shivashish are seen discussing that they should never let Megha win as she would join the celebrities after winning.
09.08: Dipika tries to reason with Sreesanth and asks him to go and pacify Karanvir. Sreesanth doesn't agree with her. Megha and Romil are seen discussing strategies to bring their team together and mentor them.
09.06: Dipika sits with Karanvir and tries to explain to him what made her angry at him. Karanvir says that he doesn't need anyone to support him but their behaviour made him feel very lost. Jasleen, Romil, Sreesanth and Shivashish try to tell Megha to give her best during the task. Megha says that she would give her hundred percent to the task.
09.05: Karanvir breaks down and decided to play only for himself from next time. He also vents out his anger on Dipika and Sreesanth for not supporting him during the task. Romil ties to mend the bridges between Deepak and Karanvir. Deepak bursts out crying feeling guilty over his actions against Karanvir.
09.02: Megha reveals that she has three eggs, Karanvir has two eggs and Saba gives away her captaincy to her sister, Somi. Megha, Somi and Deepak are the contenders for the captaincy task.
Equations and dynamics within the house went through the roof as the best of friends turned against each other in last night's episode of Bigg Boss 12. While Sreesanth and Dipika Kakkar refused to back up Karanvir Bohra, Deepak Thakur and Surbhi got into a nasty fight with him and even called him "ghatiya". It was during this time that he received an unexpected support from Megha who advised him to be strong and play fair. Deepak and Surbhi, feeling guilty for their actions, try to hug it out and mend the equation with Bohra but he refuses to forgive them for their deeds. Later, we saw a heartbroken and devastated, KV breaking down into tears inside the powder room.
In tonight's episode, we would see KV making up his mind to play his own, individual game without the support of anyone. We would also see him confronting Dipika and Srishty over their actions. However, the major highlight of the night would be the captaincy task between Megha Dhade and Deepak Thakur.