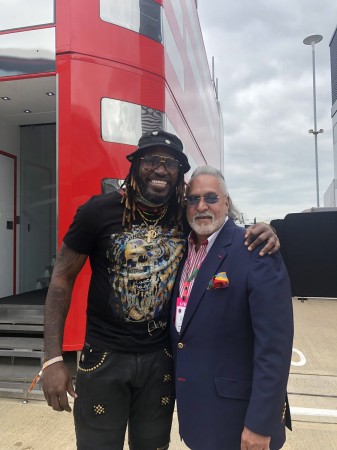 While he remains a fugitive awaiting court's decision on his extradition plea, Vijay Mallya continues to wine and dine with famous people in London. On July 13, West Indies cricket superstar Chris Gayle posted a photo of himself with Mallya on his Twitter account.
In the tweet, the 'Universe boss' refers to the absconding businessman as 'big boss,' possibly a hangover from the days when Mallya headed the UB group, the owner of Royal Challengers Bangalore (RCB) team in Indian Premier League (IPL). Gayle was the star player in that side for many seasons and reached great heights of success while playing for it.
However, the left-handed batsman may not be aware of the legal status of Mallya as someone who escaped the law and is trying to prevent detention by Indian authorities. But Twitterati were on to the tweet and saw the funny side of it. Some of them posted hilarious responses to the picture which took potshots at the businessman.
Here is a collection of some of the best ones: