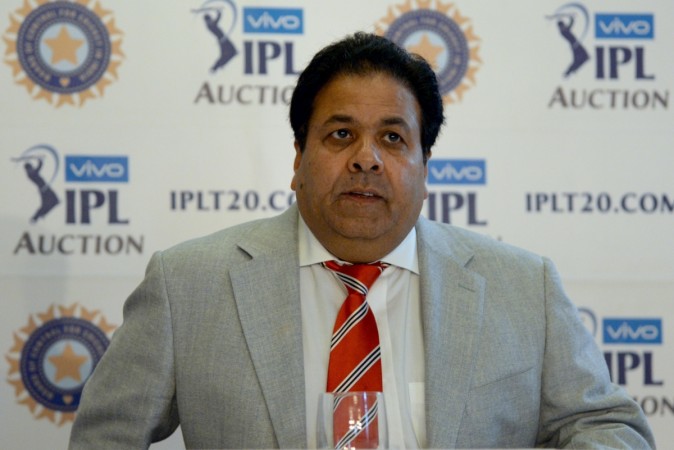 West Indies swashbuckling batsman Chris Gayle landed in a soup after making sexist comments yet again on a female journalist last week. IPL Chairman Rajiv Shukla has now stepped in and mentioned that he would be taking up the matter with the BCCI.
Charlotte Edwardes, who works for the Times of London, mentioned facing uncomfortable questions from the Royal Challengers Bangalore (RCB) star during an interview with him. Earlier this year too, Gayle had stirred quite a storm after making comments like "Don't blush, baby" and "I came here to see your eyes" for a female journalist in a TV interview during the Big Bash League (BBL) in Australia.
"The players must behave themselves," said IPL Chairman Rajiv Shukla to the Times of India on Wednesday. "We expect the players to adhere to a certain kind of behaviour when the tournament is on. The players should maintain the sanctity of the league. These kind of statements are totally uncalled for in public domain. I will take up this issue with the president and the secretary of the BCCI."
Gayle's comments for the Australian journalist in the BBL also proved consequential as Melbourne Renegades' chief executive Stuart Coventry confirmed on Tuesday that the franchisee will not re-sign Gayle for the next edition.
The BCCI, meanwhile, has announced that the incident is a "personal matter," but having said that, if an official complaint is lodged, the Indian cricket board will have to look into the matter.
"At this point, we'll not look into it. We're focused on completing the IPL, which has reached its final stages. What has happened in this case is between two foreign individuals. It is a personal matter between people who aren't from India," said BCCI Secretary Ajay Shirke. "At the same time, that doesn't mean that we'll ignore it. If a complaint is brought to us, we'll act on it. If it develops into something more, we'll look into it at an appropriate stage."