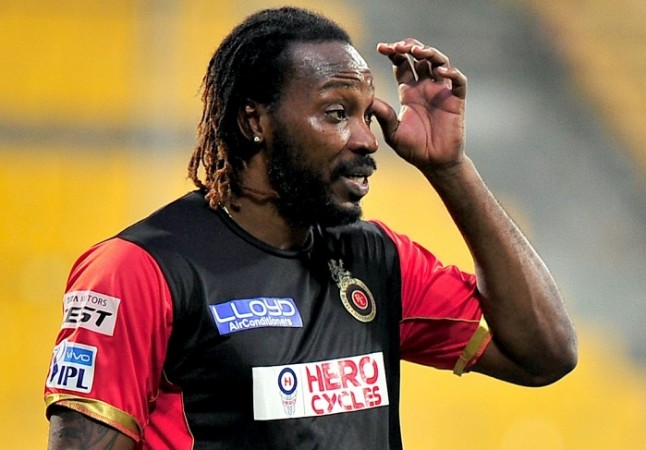 West Indies cricket star Chris Gayle revealed on Monday, October 23 that he was devastated after Australian newspaper, The Age, in January 2016 accused him of exposing his genitals to a masseuse during the 2015 ICC World Cup in Australia and New Zealand.
The cricketer also said his partner was upset over the report, which "wanted to destroy him and blacken his name".
Gayle wants to clear his name
The Twenty20 specialist denied the allegations during the day one of his defamation trial against Fairfax Media, which owns the "Sydney Morning Herald", "The Age", "Canberra Times" and "Brisbane Times".
The news report alleged that Gayle, who was wearing only a towel, "indecently propositioned" a woman in the West Indies team dressing room.
Under questioning from his own barrister, Bruce McClintock SC at a Sydney Court on Monday, Gayle contradicted the newspaper reports, saying the incident never happened. The big-hitter also said his reputation was already damaged and that the ongoing trial was one case he wanted to fight to clear his name.
Gayle revealed he was already on his way to a training session and was already wearing the kit. The left-handed opener added he only entered the dressing room to wear his boots.
McClintock also said the journalist who reported the news for "The Age" knew former Channel 10 reporter Mel McLaughlin, who was on the receiving end from Gayle during Big Bash League (BBL) last year.
Notably, Gayle had asked McLaughlin if she would be interested in going for a drink with him and then said "don't blush baby" when the reporter was visibly uncomfortable on air. He was fined $ 10,000 by his BBL side Melbourne Renegades after the comments went viral.
Check out the video here
The barrister, in his opening address, also called the reportage "false attack" and that Fairfax had been malicious in publishing the story.
"They intended to blacken his name ... They wanted to destroy him," McClintock said, as quoted by ABC News.
He added: "They knew what they were doing. It was a vicious and savage and false attack."