When Chris Gayle is in the mood, bowlers reach the verge of tears and records tumble like nine pins. It has been a while since the left-hander hit his straps, but boy was the wait worth it.
In an assault of almost superhuman (chuck that, of definite superhuman) proportions, Gayle smashed the ball out of the humongous Manuka Oval as easy as knocking the ball around for singles, with Zimbabwe left with little option but to scratch their heads and crane their necks as the ball sailed over them again and again and again.....
The ICC World Cup 2015 match between West Indies and Zimbabwe was all about Gayle, as the opener showed just why he is, when on-song, without a shadow of a doubt, the most dangerous, destructive batsman in world cricket, and probably of all-time.
Gayle, en route to his ridiculously ridiculous 215 from 147 balls (10x4, 16x6), posted the highest ever World Cup individual score, highest ever partnership for the West Indies alongside Marlon Samuels and ever in the World Cup for any team and highest partnership of all-time for any wicket in any ODI – they beat Sachin Tendulkar and Rahul Dravid's record of 331 against New Zealand in 1999.
Chris-unstoppable-Gayle also hit the most sixes in a World Cup innings and joint-most in an ODI innings with 16, while becoming the first non-Indian to score a double hundred – joining Sachin Tendulkar, Virender Sehwag and Rohit Sharma in the list -- his was also the fastest ODI double hundred of all-time -- with the 215 also making him the first player ever in a World Cup match to score a double century, even if he could not go past Sehwag and Rohit's scores of 219 and 264 respectively.
West Indies, btw, posted 372/2 in their 50 overs, near unbelievable considering they were only 149/1 after 30 overs. In reply, Zimbabwe, did decently well, but fell well short, as they were bowled out for 289 in 44.3 overs after the target had been brought down to 363 in 48 overs, owing to a slight rain delay.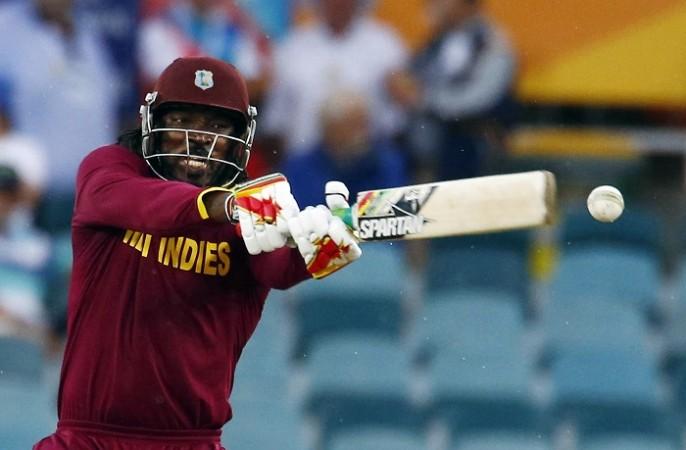 Such was the destruction in Canberra from the blade of Gayle, you started to feel sorry for the Zimbabweans towards the end, because there is only so much you should smash the bowlers – c'mon, otherwise it is almost torture.
What cannot be forgotten is that Gayle rode his luck in this innings. He was extremely lucky not to be given out lbw in the very first over of the match, and off his first ball, as Tinashe Panyangara, after castling Dwayne Smith in the second ball of the match, trapped him in front. The umpire gave it not out, and Zimbabwe asked for a review, with the ball tracker then saying the ball was only clipping the top of the stumps, meaning the call stayed with the umpire.
There was also a catch off a no-ball, with Panyangara the bowler again, a little after Gayle reached his 100 as well, while the ball kept dropping just beyond or in front of the fielder when he mistimed the ball – which, it must be said, was not too often.
You know when everything goes your way, it is your day, and all you can do is make the most of it, and boy did Gayle do just that.
When he was given the balls in his hitting zone, he was unstoppable, with the sparse crowd at the Manuka Oval, loving every moment.
Clean-hitting and Chris Gayle go hand in hand, and after getting to his 100, which he completed in 105 balls, he got to his 200 in just 33 balls after that, which only emphasised the domination of the left-hander in the final 15 overs.
Oh, and in case you forget, Samuels (133, 156b, 11x4, 3x6) got to his 100 too, albeit slow and steady, with West Indies putting on 372 runs for the second wicket.
This innings was all about Gayle, though, and so it should be after that insane assault.
Here is the Scorecard of the West Indies vs Zimbabwe Match