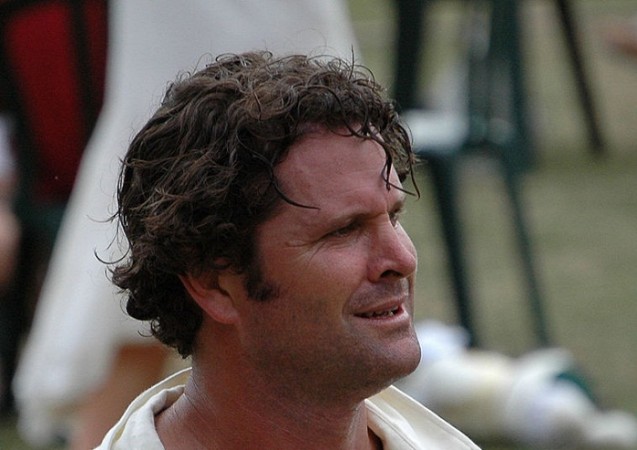 Chris Cairns yet again vehemently denied having any association with match fixing in cricket, with the former New Zealand all-rounder reading out a strongly-worded statement in Auckland.
Cairns was questioned by the ICC Anti-Corruption Unit, the England and Wales Cricket Board as well as the Metropolitan Police in London over the past few days, over allegations of match fixing.
In testimony to the ICC, which was subsequently leaked to the media, Brendon McCullum had claimed he had been approached by "Player X" a few years back in view to match fixing.
Cairns eventually came out and said he believes the "Player X" referred to by McCullum is him, with the former cricketer denying all claims as false.
After making himself available for investigation in London, Cairns put out a statement, without taking any questions. The 43-year-old took aim at McCullum, questioning his motive behind the statements, three full years after the alleged incident.
"It is beyond doubt that regardless of what certain people have claimed in the media, Brendon McCullum waited three years before reporting this alleged approach to an ICC anti-corruption official," Cairns said.
"It is misleading at the least for a host of people to claim that he reported my alleged corrupt approach within a timely fashion or that there had been a small delay.
"Mr McCullum first made his allegation to the ICC's ACSU on February 17, 2011. Not only was this nearly three years after the alleged approach, but importantly 13 months before the trial in March, 2012, of my case in the London High Court against Lalit Modi about match fixing. At that trial, every allegation that I was match fixing was shown to be false.
"It is extraordinary that Mr McCullum told the ACSU in February, 2011, that three years previously I approached him to match-fix, yet neither he nor the ASCU corruption officer who took his statement, Mr John Rose, took that information to the ICC or informed Mr Modi or anyone else of this startling revelation."
Cairns also revealed three New Zealand, two former and one current, players had also given evidence. But Cairns believes there were no accusations put out by the three in relation to McCullum telling them personally about the alleged approach.
"These three players have made no direct accusation against me," Cairns added. "These players are Stephen Fleming, Daniel Vettori and Kyle Mills, the brother of New Zealand Cricket Players' Association head Heath Mills.
"Two of these men made statements supporting Mr McCullum's claim that he spoke to them. The third man told investigators his memory was foggy and he could not make a statement in support of Mr McCullum.
"It is also significant that none of those players seems to have spoken to anyone at the ICC or anyone at any other organisation about my alleged conversation with Mr McCullum until this year."
Cairns then accused Lou Vincent, the other player to make a statement to the ICC about "Player X", of trying to save his own skin by blaming others for his problems, while portraying himself as a "whistleblower."
"In 2008 he had a lot of problems that he has admitted to," Cairns said. "I endeavoured to become a friend to him in these difficult times. He has betrayed the friendship I offered him and now seeks to portray himself as a whistleblower.
"He is nothing of the sort. The truth is he has been caught cheating and seeks to mitigate his sins by blaming others.
Cairns concluded by hoping the allegations against him would be cleared, while insisting he had never been involved in match-fixing. "I find this situation truly absurd, bizarre and scary. I now wait to see what happens next," he added. "I am hopeful that proper process will be followed and that I will be cleared of these allegations.
"I have never match-fixed, sought to have others match-fix, or otherwise play the game of cricket in anything other than the spirit it so richly deserves to be played in."