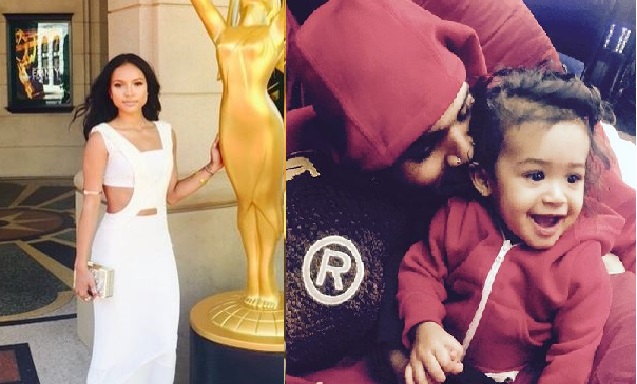 Chris Brown's life gets more complicated by the day. After his feud with Tyson Beckford, the 'Loyal' singer is now at war with Nia Amey Guzman over child support for Royalty.
According to the latest reports, Brown stopped handing over his set child support payment to Nia after she started demanding more money. It is only natural for Royalty's parents to have different views on what's adequate "child support".
Chris had been paying Nia Guzman $2,500 in child support. But, he stopped doing so in March, after Nia started demanding $15k a month, which the 'Ayo' thought was unreasonable, reported TMZ.
Apparently, Brown and Nia have been fighting because the 26-year-old singer thinks the mother of his baby is using Royalty to draw more cash out of him. But, she thinks he just doesn't want to pay up.
"Chris says Nia's treating the baby like a winning lottery ticket, but she claims he's being incredibly cheap and their daughter is suffering as a result," the report said.
Nia will reportedly be filing legal documents soon, asking for the back payments of child support and an increase in payment as well.
It looks like Nia is on a spree of taking tough stands with regards to Royalty. Apart from her differences with Chris over child support, Nia has also put her foot down about the relation Karrueche Tran shares with the baby girl.
Nia understands Royalty may come in contact with Tran because of her relationship with Chris, and she doesn't mind the interaction. But the mommy doesn't want Karrueche to cross the line.
According to Hollywood Life, Nia doesn't want Karrueche to spoil her daughter with lavish gifts. Nia's friends told the website that Royalty's mother has set boundaries with regards to Karrueche's relationship with Royalty, and excessive gifts would be crossing the line.
"Small gifts here and there and on special occasions are cute, but Karrueche would be out of line if she were buying Royalty a lot of expensive things like clothes and toys on a regular basis. That's Nia's job, not Karrueche's!" the website reported.
Now, daddy Chris Brown has to really work hard to manage it all between these three women: Royalty, Nia Amey and Karrueche Tran.