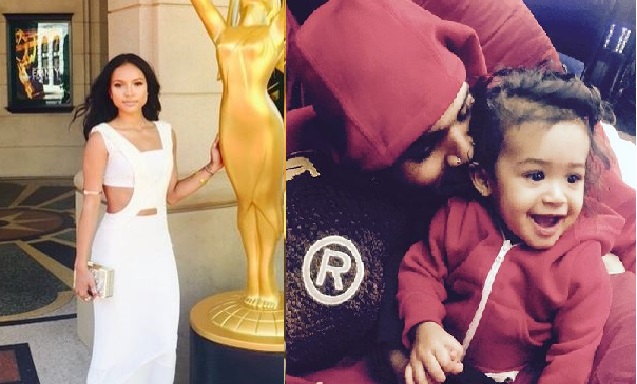 Karrueche Tran slammed reports that had suggested she might patch things up with Chris Brown, saying that there are "no chances" the two could get back together.
Looks like the former lovers will continue to be in the "ex" league as Tran has asked Chris Brown to move on.
Last week, when the "Loyal" singer hinted that he and his on-again, off-again girlfriend are getting back together, Tran immediately shunned it off on Twitter.
"Karrueche wasn't surprised about the rumours because she is used to that in the media daily but when Chris tried to play it off like they are back together she had to say something," a source connected to the former couple told Urban Islandz.
"There are no chances of reconciliation at this moment, Karrueche still loves Chris but she recognised that he has caused her a lot of pain and has decided to step out of that situation."
Rumours began doing the rounds when Chris posted a cryptic message on his Instagram:
"Thx for making my bday a special. All my friends family etc.. #taurus season. I have three special ladies celebrating this month. Mother's Day for momma. May 17th miss you know who."
The model immediately went on Twitter and posted: "A rumor is simply just that.. a rumor."
A rumor is simply just that.. a rumor.

— Karrueche Tran (@karrueche) May 8, 2015
At the same time, the two have been reportedly leading very different lives. While Chris is busy spending time with Royalty, posting adorable videos of her, Tran had a pre-birthday bash with her friends, and not with Chris.
Meanwhile, Brown is said to be making desperate attempts to get back with Tran. He has planned a surprise for her birthday, which is on 17 May. There have also been reports that Brown plans to propose Tran on her 27th birthday.
So, we are pretty much clear about what Brown wants, but we are still very confused about Tran's stand right now.
On one hand the model shuns the idea of taking Chris back in her life, on the other hand she is buying special gifts for Chris' baby Royalty's first birthday.
Initially, it appeared that Royalty was the reason why the couple split. But now, the model has been warming up and bonding with Royalty. A few days ago, Karrueche had an emotional breakdown when she met the baby for the first time via Facetime. And the latest is that she has got the baby a personal gift on her first birthday.
"Karrueche's well aware she shares the same birth month as Royalty. She wants Chris to know that she's very proud of him for manning up and taking responsibility of his daughter," Hollywood Life reported.
"Karrueche's already purchased Royalty a small gift. She bought her the cutest little Vietnamese natural agarwood elastic string bracelet. Karrueche got one on her first birthday too. In her culture, it brings luck and good health," the source added.