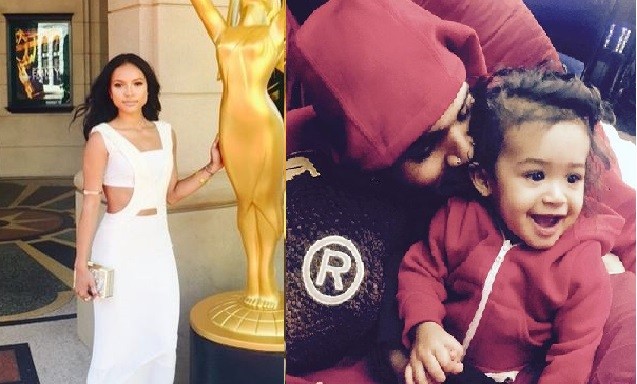 Chris Brown behaved like a bad boy yet again. The "Loyal" singer followed Karrueche Tran from a nightclub to her home at 3.30am on 4 June. Neighbours had to call 911 when he was heard banging and screaming at her door.
The pair reunited at Playhouse Nightclub in LA and were seen leaving the venue, with Tran looking visibly upset as Chris followed close behind.
Earlier that night, the rapper had booked a VIP table right next to hers. The model, who recently dumped Chris after she got to know about Royalty's birth, was upset and left, only to be followed by the star to her SUV, where an explosive argument occurred.
TMZ reports that after Karrueche left the nightclub to avoid Chris, he followed her and even forced himself into her SUV as she drove away.
The website reported that Tran did not want him in the vehicle and quickly stopped to drop off the R&B star and his friends. This was the reason the model was more upset when he showed up at her doorstep — banging and yelling at 3.30am.
It didn't end here — a few hours later, the pair had yet another blowout at a local Norm's diner.
After this fiasco, chances of reconciliation between the pair seem to have become bleak. It looks like Chris has lost his only opportunity to win back his ladylove.
According to Hollywood Life, Chris has apparently come to terms that he may never get Karrueche Tran back and that he is ready to move on.
The report said Chris Brown has been sharing his feelings with his 10 million Instagram followers. The singer posted a picture and captioned it: "the first day of the rest of my life!"
The 26-year-old singer looked defeated in the picture, notes the website. "It seems super positive, but considering the attached photo, he looks pretty sad. Even though he's surrounded by a fleet of colorful Ferraris, his body language shows his emotional pain. With a sad look on his face and slouched shoulders, he looks like a defeated," the website said.
Simultaneously, a source also told the website that Chris never meant to ruin Tran's night out and it was a big mistake that he went to her house.
"Chris didn't want to go to Karrueche's house, but the overwhelming love he has for her drove him to. He just wanted to talk to her...that's all. If she would have just let him say what he had to say, this wouldn't have gone down the way it did," an insider told.
Now how will Chris Brown make up to Karrueche Tran?