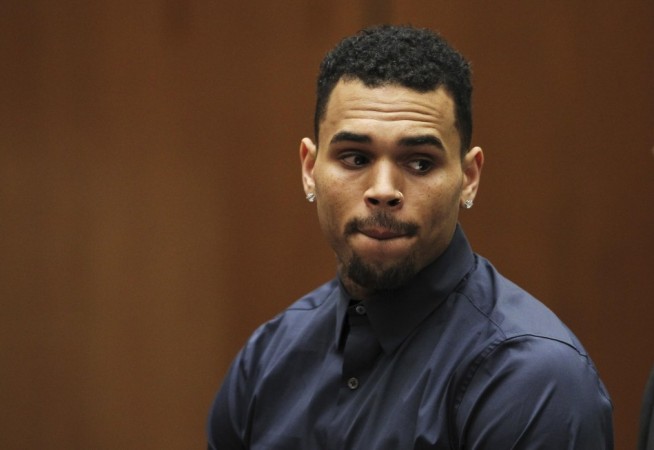 Many may think Chris Brown have had faced enough of trouble but he is not over it yet as he has been arrested and sent to jail for violation of his probation.
Chris Brown was reportedly kicked out of a Malibu rehab facility where he had been living for almost four months now after an order by a judge in the Rihanna assault case, leading to his arrest by L.A. County Sheriff.
The rapper was arrested for violating "internal rules" and not for the "inappropriate relationship" with a female worker earlier this month, a source told TMZ. It added that his kick out from the rehab was not related to violence or drugs.
The singer was initially supposed to go through anger management therapy in the facility for 90 days but the court extended his stay by two more months. He had to complete his stay without being thrown out, failing which he would be sent to jail without bail.
A press release by the L.A. County Sheriff's Department reads:
Los Angeles County Sheriff's deputies were made aware of a warrant for the arrest of Suspect Chris Brown on Friday, March 14, 2014. At about 2:00PM, Malibu/Lost Hills Sheriff's deputies arrested Suspect Brown for the warrant at a location he was staying at in the city of Malibu. Mr. Brown was cooperative when taken into custody. He is being held without bail at the Inmate Reception Center of the Los Angeles County jail in downtown Los Angeles. The warrant was issued related to assault with a deadly weapon and criminal threats crimes which occurred on February 7, 2009, in the City of Los Angeles. The incidents were investigated by the Los Angeles Police Department and prosecuted by the Los Angeles County District Attorney's Office. The warrant was issued for a probation violation related to his conviction.
It may be recalled that Chris was earlier thrown out of a different rehab after he threw a rock at his mother's car for allegedly talking bad things about his ex-girlfriend Rihanna.