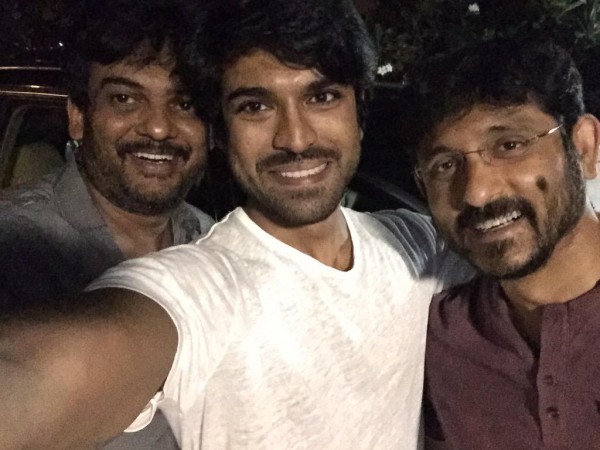 Director Puri Jagannath and Writer BVS Ravi have refuted Vasu Dev Varma's plagiarism charges against Chiranjeevi's 150th movie, tentatively titled "Auto Johnny". They have dubbed the allegations a publicity stunt.
It was rumoured that Vasu Dev Varma had written the story for Krishnam Raju's "Okka Adugu" and then gave it to writer Gopi Mohan to spice up its entertainment quotient. But Ravi learned the story from Gopi and used the main plot for Chiranjeevi's much-talked about comeback film.
Soon, rumours started floating on the Internet, forcing Gopi Mohan to clear the air. On 11 May, the popular scriptwriter tweeted: "A gossip news is circulating that i shared someone's story with @BvsRavi.It's a false news.Whoever it is,they can solve with Writers union." Instead of responding to rumours, BVS Ravi had retweeted the post of Gopi on the same day.
But when the rumour mongers did not stop, BVS Ravi decided to comment on the controversy surrounding the script of Chiranjeevi's film. On 13 May, the filmmaker tweeted: "#150 is neither periodical nor any social problem related one nor did @Gopimohan share wid me any idea. any doubt can b cleared thru unions."
Ravi asked to stop the publicity stunt and resolve the issue with Telugu Writers' Association and All India Writers' Association. He tweeted: "It's a new age stylish storyline designed by @Purijagan Garu keeping in mind all the megafans and expectations of all the audience. All kinds of publicity stunts shud be put to rest and dealt with respected Unions."
Meanwhile Puri Jagannath also took to his Twitter handle to deny the allegations against "Auto Johnny". The director tweeted: "AUTOJAANI story is completely and originally conceived by me.Don't believe false claims and rumours made in media."
However, "Auto Johnny" was rumoured to be a periodical film, which dealt with a social problem of present times. It was reported that Chiranjeevi would play double role, as freedom fighter Uyyalawada Narasimha Reddy and as Auto Johnny. The freedom fighter appears in flashback to transform Johnny become a people's leader.