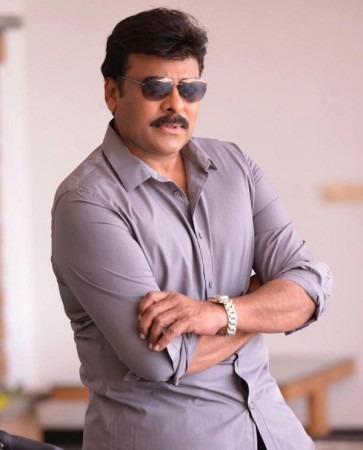 Even before its launch, megastar Chiranjeevi's much-talked about 150th film has landed in a controversy for stealing Vasu Dev Varma's story, but Gopi Mohan has denied sharing the story with BVS Ravi, who has penned the script for Chiru's comeback movie.
On 11 May, Ram Charan confirmed on Facebook that Puri Jagannath would direct his father's 150th movie. Meanwhile, writer BVS Ravi also confirmed writing the script for the film. He tweeted, "Super excited,highly emotional 2 get d nod from #Megastar n its my most fav director @purijagan produced by #Ramcharan #Chiru150 ".
Hours after their confirmation, rumours surfaced on the Internet. It was reported that writer BVS Ravi has allegedly stolen the story from another writer named Vasu Dev Varma. Puri Jagannath's name is mentioned in the original confirmation, but the writer's name is missing.
Vasu Dev Varma is an NRI and he has written a script for Krishnam Raju's upcoming project "Okka Adugu". Starring Prabhas in the lead, the movie is expected to go on floors after the release of "Baahubali". The writer has been working on the script for the last few years, reports Deccan Chronicle.
Reports suggest that A Murugadoss also liked the story and asked him to give the script to him. But since Vasu had promised the same to Krishnam Raju, he declined to give it to the Kollywood director. The writer had sought the help of Gopi Mohan, as Krishnam Raju suggested him to add some entertainment elements in the story, according to the report.
The report further suggests that Gopi Mohan has been working on the script to add his inputs for the past six months. However, Ravi, who happens to be a good friend of Gopi and has also worked with him in many films, heard the story from the latter and narrated the main plot of the story to Chiru, who liked it and gave his nod immediately.
The story of Chiru's comeback movie, which is likely to be titled "Auto Johnny", revolves around two characters. One is inspired by freedom fighter Uyyalawada Narasimha Reddy, while the other is Auto Jani. Auto Jani takes inspiration from the freedom fighter to become a people's leader.
Vasu has reportedly registered his story with the Telugu Writers' Association and All India Writers' Association, but Ravi is said to have taken the main plot from his story and changed the characters. It is reported that Vasu has already sent texts to director Puri, Ravi and others regarding the storyline.
However, Gopi Mohan has dismissed media reports as false. Soon after reading the reports, the script writer took to his Twitter handle to clear the air. "A gossip news is circulating that i shared someone's story with @BvsRavi.It's a false news.Whoever it is,they can solve with Writers union."