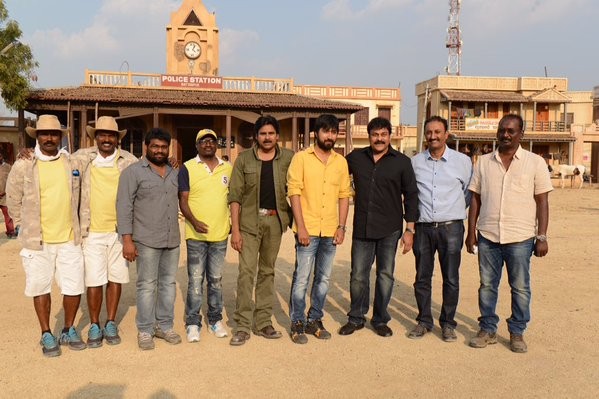 Megastar Chiranjeevi made a surprise visit to the sets of "Sardaar Gabbar Singh" and Power Star Pawan Kalyan, director Bobby, producer Sharrath Marar were all thrilled to receive him.
Chiranjeevi, who is busy preparing for his 150th movie, visited the sets of "Sardaar Gabbar Singh" on Wednesday. Pawan Kalyan and Sharath Marar, who are jointly producing the movie, were all excited to meet the Megastar and they shared the photos of his visit on the official Twitter handle of the film. The pictures are now being fast circulated on the social media.
The entire film unit was excited to see Chiranjeevi on the sets of "Sardaar Gabbar Singh". The elated producer Sharrath Marar tweeted photo featuring Chiru with his team on the set. He also wrote, "#ShankarDada meets #Sardaar on the sets of #SardaarGabbarSingh. Team celebrates the visit. #PSPK #PawanKalyan."
Writer-turned-director Bobby aka KS Ravindra also took to his Twitter handle to share his excitement with his followers. He posted some photos and wrote, "Feeling blessed (sic)"
"Sardaar Gabbar Singh" is currently being shot in Hyderabad and the film unit has planned to wrap its filming by the end of this month. On 20 January, Sharrath Marar tweeted, "#SardaarGabbarSingh Hyderabad schedule fast progressing and to continue till the end of the month. #PSPK keen on an early summer release."
The makers will hold a grand function for the audio launch "Sardaar Gabbar Singh" on 12 March. If we are to go by the buzz in the T-Town, Chiranjeevi and Ram Charan Tej will be the chief guests at the music release of the movie. The mega family fans have been eagerly waiting to see the three stars on one platform for long. It will truly be a blessing for them, if it happens on this occasion.
A lot has been written and spoken about the relationship between Mega brothers Chiranjeevi and Pawan Kalyan. The mega family often quashed the reports about the split between the two, but the rumours did not stop. Finally, Pawan Kalyan put all the speculations to rest by meeting Chiru and Ram Charan at their residence and congratulating them on Successful opening of "Bruce Lee".
#MegaStar #Chiranjeevi Walks in on the sets of #SardaarGabbarSingh pic.twitter.com/c5DRhfkVgs

— Sardaar GabbarSingh (@sardaarofficial) January 28, 2016
#MegaStar #Chiranjeevi In conversation with #PSPK #PawanKalyan on the sets of #SardaarGabbarSingh pic.twitter.com/3mdLBt0WWh — Sardaar GabbarSingh (@sardaarofficial) January 28, 2016
#MegaStar #Chiranjeevi along with @sharrath_marar on the sets of #SardaarGabbarSingh pic.twitter.com/Vhc2WkJUD3

— Sardaar GabbarSingh (@sardaarofficial) January 28, 2016
#ShankarDada meets #Sardaar on the sets of #SardaarGabbarSingh. Team celebrates the visit. #PSPK #PawanKalyan. pic.twitter.com/kweMna1rze — Sharrath Marar (@sharrath_marar) January 28, 2016
Feeling blessed pic.twitter.com/5gUN7v3nin

— bobby (@dirbobby) January 28, 2016
pic.twitter.com/dvL9nozmXW — bobby (@dirbobby) January 28, 2016