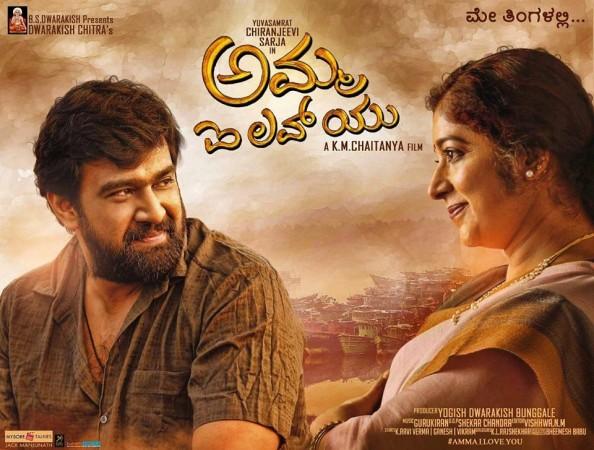 KM Chaitanya of Aa Dinagalu fame is collaborating with Chiranjeevi Sarja for the third time with Amma I Love You after working in Aatagara and Aake. Their latest movie is a remake of superhit Tamil film Pichaikkaran.
Amma I Love You is hitting the screens this Friday (June 15). Ahead of the film's release, International Business Times India caught up with the driver over a candid chat.
Here are the excerpts from the conversation:
What is Amma I Love You all about?
As the title indicates, it is a film about a mother-son relationship. We have often seen films made on mother's sacrifices for her son, but Amma I Love You tells to what extent a son can go for the well-being of his mother and how he grows as a person during the course of his journey.
Looking at your movies, one gets an impression that you have special connection towards the titles starting with the letter 'A'.
'A' proved to be lucky for me. We had several names for Aatagara. Dwarakish suggested us to go with the said title. Ananth Nag had wondered why a movie was not made on the aforementioned name.
In case of Aake, no movie was made with the said title. If the name starting with the letter 'A' worked for Dwarakish in Apthamitra, I had the success of Aa Dinagalu and Aatagara looking back. So, we decided to have the title on the similar lines and opted for Amma I Love You. In fact, Yogesh Dwarakish had registered the title, 'Amma I Love You' in his name following the success of 'Appa I Love You' song from his Chowka.
Why did you cast Chiranjeevi Sarja again?

I had conducted a theatre workshop for Aatagara, but for Aake, Chjiranjeevi himself asked me to do a workshop. Even during the shooting of the film, Chiru used to come to me to prepare for the next day shooting. I liked his involvement and commitment to his role. Also, I share a good working relationship with him. Above all, Yogi and I felt that he fits the bill. Hence, we signed him for Amma I Love You.
Usually, filmmakers, who tasted success doing original stories, do not prefer making remakes. But you are an exception.
If not for me, someone would have definitely remade Picchaikaran in Kannada. I take up remakes when I feel that I can do it better than others. I used to get offers to do remakes since Aa Dinagalu days. If there is a good subject which can be retold to our audience, then I would like to direct those films.
There is a difference between a remake and stealing stories. People here lift the stories from multiple movies and prepare a subject claiming the story to be original. Also, there are few who lift scenes from Hollywood movies and write scripts. But we have taken the rights of the story and are legally making the movie.
What next?
I am doing one more movie with Chiranjeevi Sarja and a week of shooting is pending. I have plans to adapt a novel to film and Aatagara 2 with Chiranjeevi Sarja is in the pipeline.