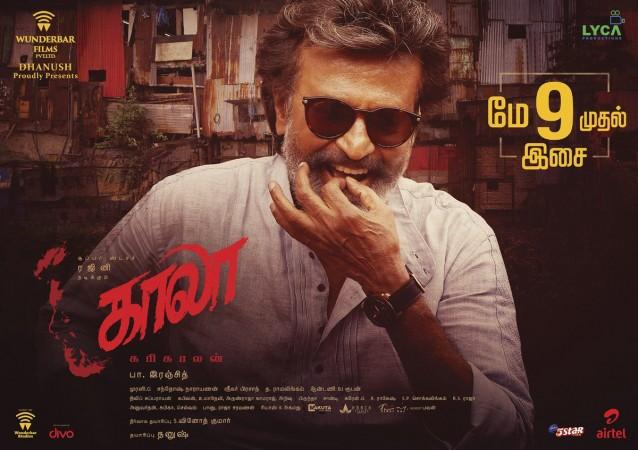 Kaala has hit the screens in Karnataka amid tight security. A day after its worldwide release, the Rajinikanth-starrer had a full-fledged release in the state on Friday, June 8.
The HD Kumaraswamy government, as per the Karnataka High Court direction, has provided security for the theatres in most of the theatres in Bengaluru. Thanking the efforts of people to release the flick in Karnataka, Dhanush tweeted, "I would like to thank all the Police officials , theatre owners , our distributors in Karnataka and all our well wishers for their support for the release of our film # Kaala # Kaala Blockbuster. [sic]"
Kaala has been badly affected by the delay in the release. "The movie has lost several crore. Kabali had grossed Rs 7.5 cr on the opening day in Karnataka and Rajini's latest film Kaala has made around Rs 3 crore on Friday that include from the limited shows on Thursday," says a source close to the distributor.
However, the collections are expected to increase in the next two days. "Family audience and many Rajinikanth fans avoided turning up to theatres when there was so much of tension around its release in Karnataka. With the situation apparently returning to normalcy people are expected to watch the film in big numbers on Saturday and Sunday," the source adds.
Kanakapura Srinivas, who has many successful movies to his credit that include Dana Kayonu, is distributing Kaala in Karnataka.
The Pa Ranjith's movie had over 250 shows on Friday and will have 260+ shows on Saturday. Notably, popular cinema hall Urvashi, which had preferred to Jurassic World: Fallen Kingdom following confusion around the release of Kaala, will be having two shows.
Rajinikanth's demand to the centre for the formation of the Cauvery Management Board had irked the pro-Kannada groups, which forced them to give a call for the ban on the flick.
Meanwhile, Rajinikanth's Kaala has minted Rs 40.7 crore at the worldwide box office on the opening day. It has raked in Rs 15.4 crore in Tamil Nadu, Rs 5.2 crore in AP/T, Rs 1.5 in Kerala and about Rs 3.5 crore from rest of India on the first day.