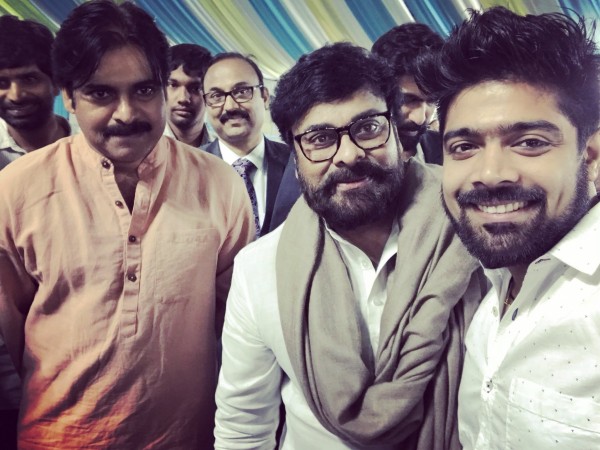 Megastar Chiranjeevi and power star Pawan Kalyan were seen bonding big time at Raj Bhavan in Hyderabad on Sunday night. The selfie featuring mega brothers has gone viral in the social media.
Telangana and Andhra Pradesh Governor Narasimhan hosted a dinner party in honour of President Ram Nath Kovind at Raj Bhavan in Hyderabad. They invited some personalities from the Telugu film industry and Chiranjeevi and Pawan Kalyan were among those prominent celebrities.
Chiranjeevi and Pawan Kalyan were apparently not aware of each other's attendance at this dinner party. The power star was reportedly busy chatting with some politicians, when he saw his brother Chiru. He immediately left the political gallery to sit beside the megastar.
Chiranjeevi and Pawan Kalyan greeted each other and chatted for some time. They were seen bonding big time. Baahubali actor Rana Daggbati and singer Revanth were among other celebs who attended the Governor's dinner party. Revanth, who is a big fan of the mega brothers, took a selfie with them.
Later, Revanth took to his Twitter handle to share his excitement over his selfie with Chiranjeevi and Pawan Kalyan. Besides posting the photo, the singer wrote, "Grateful for where am at ! Excited about where am going ! Along with Mega brothers at rajbhavan. #megabrothers #powerstar #megastar #governer #presidentofindia #kcr #chandrababunaidu #singerrevanth #me."
It was a feast for the fans of the mega family to see Chiranjeevi and Pawan Kalyan together in single frame. This selfie was circulated by thousands of the people and it went viral within no time. Many of the fans could not stop thanking Revanth for this photo. A fan named Vamshi Naidu tweeted: "Supb pic @singerrevanth thank u so much.. love u #megabrothers.
Whenever Chiranjeevi and Pawan Kalyan pose together for a selfie, it turns out to be a magical moment. It should be recalled here that the power star had taken a selfie with his brother on the stage of the audio launch of his film Sardaar Gabbar Singh. The photo had created a lot of buzz on the social media.