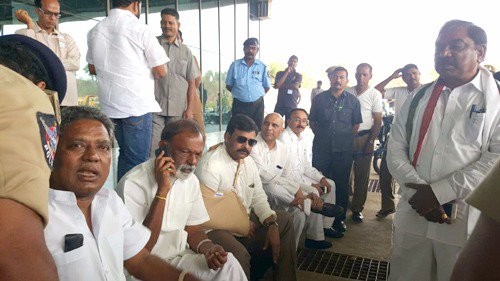 Congress Rajya Sabha member K Chiranjeevi was reportedly detained on Monday at the Rajahmundry airport when he was on his way to meet Kapu crusader Mudragada Padmanabham in Kirlampudi, East Godavari district.
Kapu crusader Mudragada Padmanabham is fasting unto death demanding reservation for the Kapu community people. Along with APCC chief Raghuveera Reddy, former Union minister K Chiranjeevi, who recently underwent a shoulder surgery, was on his way to meet Padmanabham and extend the support of Congress party to him. Both the Congress leaders took a special flight from Begumpet airport this morning.
Addressing the media at Gandhi Bhavan on Sunday, APCC chief N Raghuveera Reddy said that Chiranjeevi and some other ministers had decided to pay a visit to Padmanabham at Kirlampudi and extend their support to him on Monday. Raghuveera had alleged that Chief Minister N Chandrababu Naidu was trying to create rift between Kapus and BCs through his provocative statements.
The Chandrababu Naidu government has come under severe criticism for not controlling the recent violent protests in Tuni. The police are said to have detained both the political leaders as a pre-emptive measure as they suspected that Chiranjeevi's visit to Padmanabham might add more fuel to the fire.
But the detention of Megastar Chiranjeevi has not gone well with his followers. Some of his fans took to their Twitter accounts to express their outburst against the Andhra Pradesh government. A few even termed the arrest as dictatorship. Here are some Twitter comments expressing the outburst over Chiru's arrest.
Chiru/PK/Charan Fan: We are not living in democratic state.. CBN is behaving like Hitler #ChiranjeeviArrested
Vinod Velluru: #chiranjeevi garu arrest ayyara? Why? What's happening in Tuni? @nmanoj324 they might not have guts but is it necessary for boss to get in to murky politics #chiranjeevi