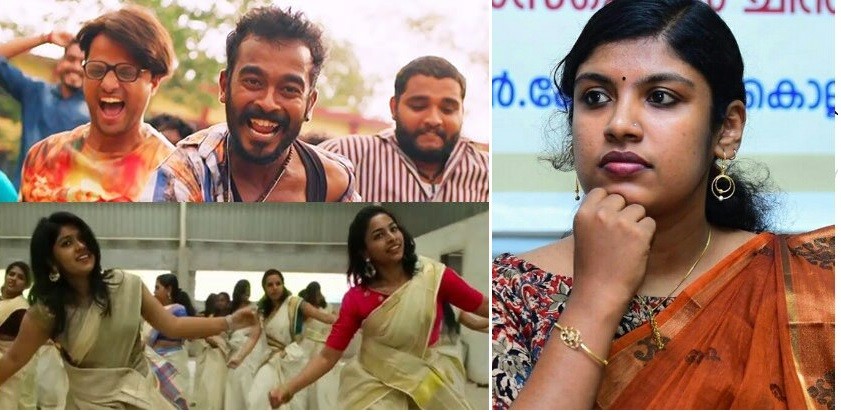 Kerala Youth Commission chairperson and firebrand Left leader Chintha Jerome has sparked outrage among netizens over her hate speech against popular Malayalam song Jimikki Kammal from Mohanlal-starrer Velipadinte Pusthakam in a time when musician Shaan Rahman's composition has crossed the boundaries becoming the favourite of millions.
Check: Jimikki fever spreads: How this song became hot favourite this Onam [VIDEOS]
Chintha's comments during OCYM's 81st annual conference has irked netizens after Shaan shared the video of her speech on his Facebook page. The music composer took a dig at the young leader for her "stupid statements made as a cheap publicity stunt". He also asked her to consider it just as a song that she can either enjoy or skip.
In the video, Chintha is heard literally dissecting the song. "Not all mothers in Kerala wear Jimikki Kammal and even if they wear, all fathers do not steal it. If it is stolen by any chance, no mother in Kerala will consume brandy as revenge. Still, it is debatable as to why Jimikki Kammal is a hit here [translated from Malayalam]," the youngster said.
Also check: Mohanlal's Jimikki Kammal version [VIDEO]
Netizens have slammed Chintha for her "stupid thoughts" and asked her not to connect the lyrics of these songs to her life.
"Sister, you just go through Vayalar's songs, if you take it in movie's sense, you will feel it sweet but if you take it to your life it looks awkward. It is a song to entertain people and there is nothing wrong in that," comments Joseph Varghese.
However, fans of the Jimikki Kammal song have also stated that they are eagerly awaiting for similar "explosive hits" from Shaan in future.
Suresh Panicker
She has no other work rather than find issues with everything. This song caught the hearts of many and everyone loved it so much. Shaan bhai, keep coming up catchy numbers like these and we will be always with you.
Vipin Nadakkal
She hasn't listened to the lyrics of the olden days songs which the censor board should have given an A certificate. Is she suggesting that we should send the lyrisists for a one day sanskari workshop?This is nothing but a publicity stunt by the lady.
Meanwhile, in the full speech video, Chintha is also heard criticising certain advertisements for giving negative awareness among people.
The Jimikki Kammal fever
The peppy number has impressed the audience ever since the makers released its audio track on YouTube. The hungama continued even after its video — set on a college campus — surfaced online. The Jimikki Kammal fever set the world on fire after the makers came up with a challenge asking people to shake a leg to the fast number to win a chance to dance with the team of the film.
Even Jimmy Kimmel loves Jimikki Kammal
Soon, creative and colourful Jimikki versions started doing the rounds on social media making it the hot song of the festival season — with students and professionals dancing to it during Onam celebrations. It even received a Gujarati version that became a Navratri special song.
Watch the viral video of Chintha Jerome here:
Here's the full speech of Chintha Jerome:
Here comes Chintha's explanation on the matter: