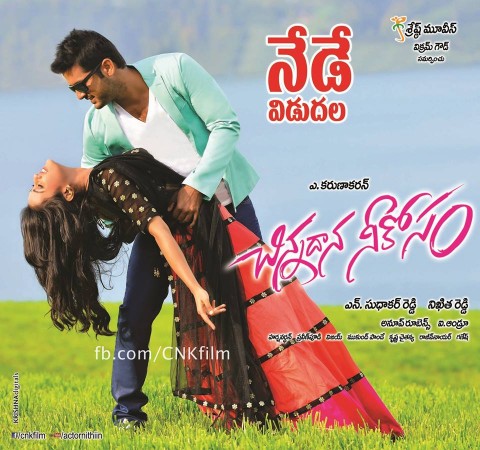 "Chinnadana Nee Kosam" (CNK), which released in theatres on 25 December, has garnered mixed reviews from critics. The first combo film of Nithiin and Karunakaran has been rated an average of 2.5 out of 5.
"Chinnadana Nee Kosam" is a tried and tested romance drama. Nitin (Nithiin) is a happy-go-lucky boy, who falls in love with multi-faceted girl Nandini (Mishti) at first sight. How Nandini uses Nitin to get her work done and how he responds to her will forms the crux of the story.
The movie does not boast of anything new in terms of story. Director Karunakaran, who has penned the script, has copied few scenes from his own films and created a screenplay, say critics. The first half of the film is interesting with high comic quotient, but the second half is boring.
The following are some leading film critics' verdict on "Chinnadana Nee Kosam":
The film is a family entertainer and has its fair share of laughs. The dialogues are witty and strike a chord with the audience. Yet somewhere the film loses its pace.
The Times of India Rating: 2.5
Compared to his previous films, there are far too few scenes in "Chinnadana Nee Kosam" that have Karunakaran's signature. The story itself leaves a deja vu feeling that you are watching a mish-mash of "Attarintiki Daredi" and "Tholiprema", which makes you wonder if the film required something more than having to doff its hat to Pawan Kalyan. The answer might very well be, "a better script."
The movie starts off on a unimpressive note; the first half of the film is nice and entertaining with Karunakaran's trademark episodes. But the second half goes awry as the story happens in Barcelona. Strengths of the film are Nitin and first half. The screenplay in second half should have been better. We have to wait and see how normal audiences embrace the movie.
With "Chinnadana Nee Kosam", it is once again proved that love stories are apt for Nithin. His performance, songs and an entertaining first half are basic plus points. On the flip side, lack of enough emotions and a predictable second half spoils the flow of the film. Finally, for those who do not mind routine love stories and want to watch a time-pass entertainer this festive season, this film is a decent choice.
"Chinnadana Nee Kosam" doesn't have anything to please the audience except for few comedy scenes in the first half. Tom and Jerry kind of love-hate war between the lead pair is entertaining to an extent. Despite a routine and formulaic first half, CNK is alright up to the interval point.