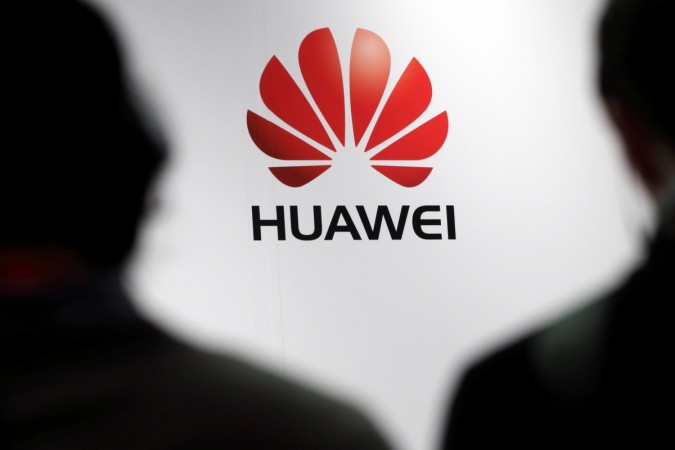 World's leading smartphone makers, including Apple and Samsung may be trying to conquer the world's largest market but it may take time to beat Chinese brands at its home-turf as local manufacturers Huawei, Oppo, Vivo and Xiaomi continue to hold on to its positions firmly, capturing a sizeable 67 percent share in 2017.
According to a research by Counterpoint's Market Monitor service, smartphone shipments in China dipped by 1 percent annually in 2017 with a total shipment of close to 468 million smartphones, while the sell-through was up 5 percent annually. The market was down 5 percent Year Over Year (YoY) in the fourth quarter of 2017 (Q4 2017) but increased 5 percent Quarter On Quarter (QoQ).
"Compared to 2016, where the smartphone market in China enjoyed robust annual shipment growth of 8%, 2017 was a difficult year for vendors as we saw a slowdown in shipments in the world's largest market. The slowdown in sell-in volumes in 2017 can be attributed to strong shipments in 2016 by growing brands such as Huawei, OPPO and Vivo to match the aggressive marketing spend in the second half of 2016," said James Yan, Research Director at Counterpoint Research, in a statement.
He said that most of the smartphone makers made effort to clear the accumulated inventory instead of focusing on new shipments.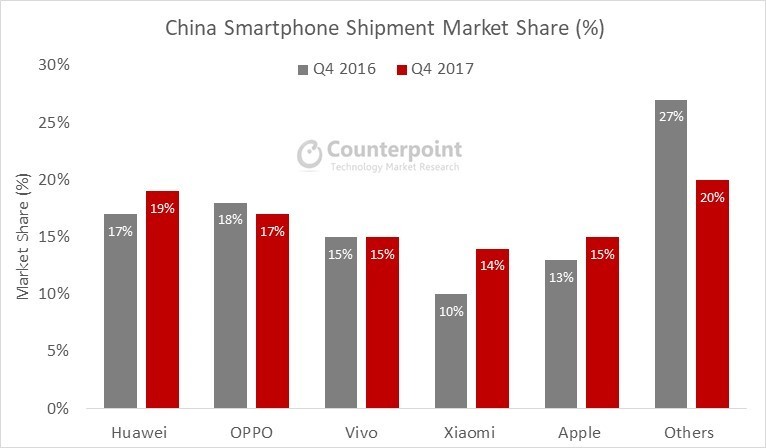 Huawei tops the list in the Chinese smartphone market during the final quarter of 2017 by registering an 8 percent YoY growth and 19 percent YoY growth for the full year of 2017. It also registered 19 percent Chinese smartphone market share during the year.
"For Huawei, the bulk of the growth was driven by its sub-brand Honor which contributed to more than 60% of its shipments during the year. This made Huawei's Honor brand the number one smartphone brand in online channels in China ahead of Xiaomi, during the full year," said Yan.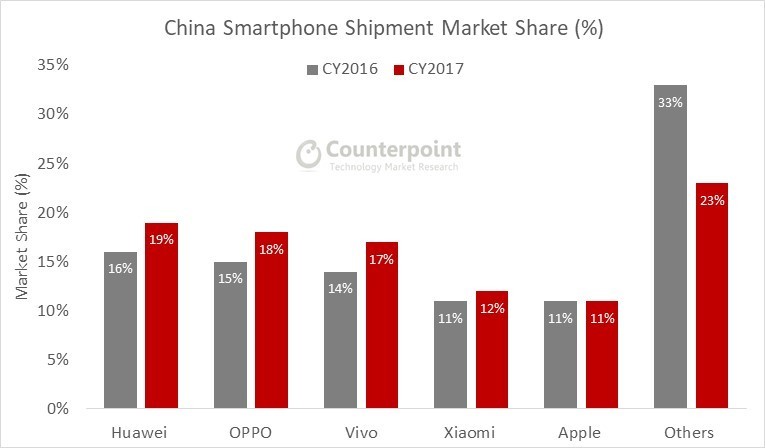 Oppo was the second largest brand in China in 2017, registering an 18 percent market share for the full year despite facing a slowdown in Q4. It is followed by Vivo with 17 percent market share (for the full year.
The study said that Xiaomi was the fastest growing brand in China last year, registering 14 percent growth in market share during Q4 2017 and 31 percent YoY growth. It overtook Apple by registering a 12 percent annual market share growth.
Research Analyst MengMeng Zhang said that "Xiaomi was able to grab the lost market share from other online smartphone brands such as LeEco and Meizu" and that "2018 will be a crucial year for Xiaomi as it looks to ramp-up more aggressively in its home market to match its performance in India and other new markets as it seeks to boost its valuation ahead of the brand's rumored IPO."