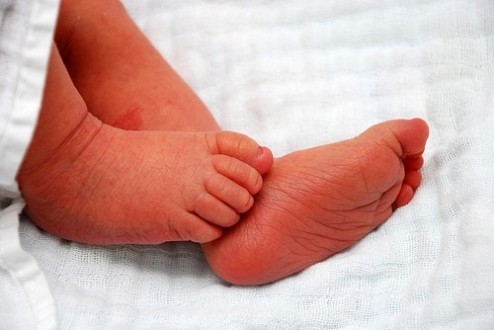 A one-year-old baby, who fell from the second storey window of a building, was miraculously saved by a local resident in China on Sunday. CCTV footage of the man saving the toddler has gone viral with people hailing the man as hero.
The incident happened in Xiaolan Town, Zhongshan City, Guangdong Province of China.
The video, which surfaced online on Thursday, shows that Mr. Li who is a local vendor immediately hurried across the street after noticing that the baby had come close to the window. Despite thunderstorm, Li managed to successfully catch and save the baby.
Li, who lives in the opposite building, positioned himself below the window ledge to catch the infant. It is believed that the baby was looking for his mother when he climbed the window.
Another local resident identified as Mr Hu rushed to the spot to help Li rescue the baby. Some local people had put a sofa and pieces of cardboard on the ground to save the infant from injuries.
The CCTV footage shows Li shouting and gesturing towards the baby. Li managed to catch the baby, as he neared the ground. Later Local residents rushed towards the infant with umbrellas. A woman, believed to be his mother, also rushed towards the crowd to look at the baby.
"I didn't think too much at the time. I was just afraid of failing to catch him. Some people put down cardboard to avoid serious injuries to the baby if I fail to catch him," Li told a local TV station, according to Reuters.
"It was nothing but human instinct to do so," Hu said.
In 2011, a similar incident had happened in China when a two-year-old was saved by a woman. The two-year-old girl named Zhang Fangyu fell from 10th floor of her building, when she came near window in her search of her caretaker.
Her caretaker had gone upstairs to collect the laundry when the incident happened.
"She was clinging to the windowpane and people saw her from underneath before she fell," a neighbour told the Chinese state news agency, Xinhua.
Wu was walking nearby the building when she heard the scream. She immediately ran towards the spot and opened her arms and waited for the baby to fall.
"Then I just felt a strong pain in my left arm, I fell on the ground and passed out," she said, according to The Telegraph.
""It was just instinctive. I thought to myself: 'I must stretch my arms out to her. I am right here I must get her'.Then I made it. I caught her."
The girl was saved but went into coma for 10 days after the fall. Even Wu sustained fractures in her arms and was admitted to the local hospital.