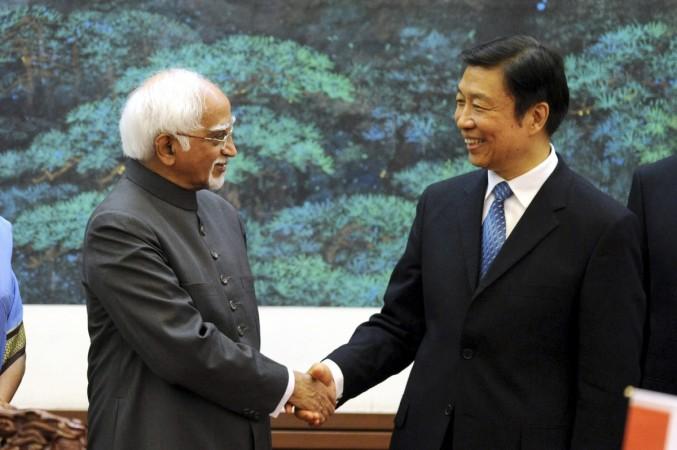 India and China signed a Memorandum of Understanding (MoU) on Monday, which included setting up Chinese industrial parks and flood data of Brahmaputra River, to facilitate more Chinese investment in India.
Commerce Minister Nirmala Sitharaman held the first meeting in China and raised India's concerns regarding the trade deficit which averaged over $ 35 billion a year in a talk with her Chinese counterpart Gao Hucheng.
The MoU was signed in the presence of Vice President Hamid Ansari and Chinese Premier Li Yuanchao at the Great Hall of the People in Beijing.
This place has witnessed one more Indo-China deal last year, where the border defense cooperation agreement was signed in a meeting between the then Prime Minister Manmohan Singh and Chinese Premier Li Keqiang, about soothing tensions on the borders.
The commerce minister is a part of Vice President Hamid Ansari's delegation, who will try to get into a greater access for Indian goods like gems, jewellery, grey cotton fabric, and services in China, according to the Mint report.
In last year, the trade between the two countries totaled to $ 65.47 billion and currently China has invested $1.1 billion in India, according to Chinese officials.
India has asked China to open Indian IT and Pharmaceuticals, and expecting four industrial parks in different states from the latter.
There is a vast scope of Chinese investment in India's manufacturing and other sectors, thus wants to encourage more Chinese investment in the country, according to Sitharaman, reports the Mint.
"The larger backdrop with which we are working is that there is definitely a big imbalance with China. We are importing lots more than we are exporting," said Nirmala Sitharaman in the meeting.
"The scope for Chinese to come to India to somewhat redress the imbalance to get their investments in India to set up manufacturing several goods to do some justice to redress the imbalance," she added.
Chinese investment into India would fulfill Prime Minister Narendra Modi's intension to expand manufacturing and regain the country's economy, as per the Reuters report.
The MoU is signed in accordance with relevant domestic laws and regulations of each party, agreed to cooperate to invest in each other's economy mutually, says the TOI report.
An Industrial Park Cooperation Working Group will mutually set up to identify and agree upon the detailed modalities for implementing cooperation and will review the progress accordingly, according to an official.
According to TOI, the three key agreements include:
China's investment in Chinese Industrial parks in India.
Flood data sharing will help India in flood forecasting as the country will be provided with 15 days more of hydrological data of river Brahmaputra.
The MoU will bring a better connectivity and framework between the two countries for regular interactions among the officials.