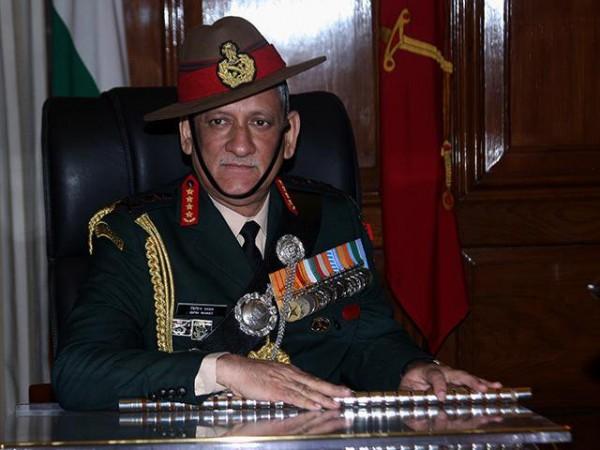 The State-run Global Times on Friday attacked the Indian Army Chief for the comments he made earlier in the week on the military threat posed by China.
The editorial said Rawat's comments could spark tension between Beijing and New Delhi. The article said, "Admittedly, Rawat has such a big mouth that he could ignite the hostile atmosphere between Beijing and New Delhi.
"He not only turns a blind eye to international rules, but also made us see the arrogance probably prevailing in the Indian Army. He advocated a two-front war in such a high-profile manner, but where does the Indian Army's confidence come from?"
While speaking at a seminar, General Rawat said 'flexing of muscle' had already begun and China was gradually 'salami slicing' into India's territory.
'It seems there are two Indias'
The editorial read, "Rawat's remarks came just a little over a week after China and India ended their border standoff in the Doklam area. The Chinese and Indian leaders just met during the BRICS Xiamen Summit and sent positive signals about bilateral ties. While many people believe it is time to leave the episode of the border standoff behind, Rawat has sent the completely opposite message."
"Can India bear the consequences when it has both China and Pakistan as its adversaries at the same time? Should the Indian Army simulate a military rivalry with its Chinese counterpart before letting Rawat speak?" the article asked.
The article wrote "it seems that there are two Indias, one that is thriving and as one of the BRICS countries the same as China; and the other that keeps provoking and tangling with China. Should we embrace the first India or teach the second India a lesson?"
"Let the first India discipline the second one and the Indians with dignity should take care of the mouths of senior officials like Rawat," it said.
Was Army chief's comment 'authorised'?
Chinese Foreign Ministry spokesperson Geng Shuang asked if the Indian Army Chief was 'authorised' to make such comments. He asked whether the remarks were 'spontaneous' or do they represent Indian government's position.
"We hope this military official could see this trend clearly", Geng added, "and contribute to the development of China-India relations, and say something more in that regard."