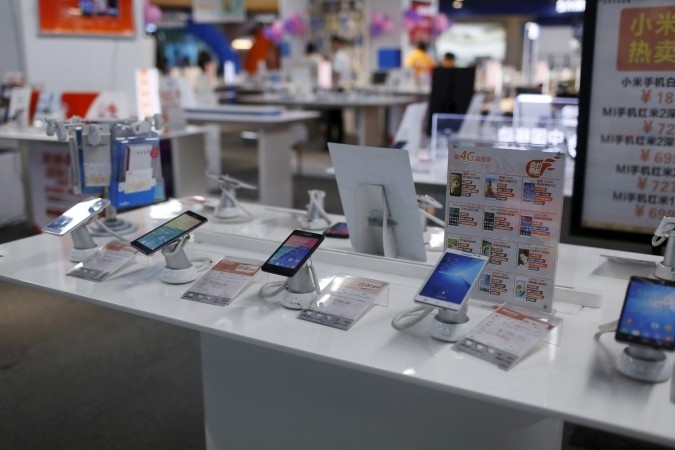 China's smartphone sales forecast for the current year got an upgrade, while the outlook for 2017 is also bullish, with Chinese brands set to increase their volume growth notwithstanding competition from global players Apple and Samsung. Unlisted Chinese smartphone makers Huawei, Oppo and Vivo are expected to ride the uptrend in a big way, says financial services group Nomura.
"We revise up our 2016 China smartphone shipment forecast and top-10 Chinese brands' global shipment volume forecast by 3% and 9%, respectively. We now expect the China market to grow 10% y-y in 2016F and a further 3% y-y in 2017F thanks to: 1) continued 4G migration; and 2) relatively stable subsidy and marketing amounts from operators," Joel Ying, analyst at Nomura International (Hong Kong) Ltd., said in a note on Friday.
Read: OnePlus 3, Moto E3 Power, iPhone 6 and other popular products that sold like hot cakes on Amazon, Flipkart in 2016
Besides, the increasing global footprint of Chinese smartphone makers such as Huawei, Oppo and Vivo is also emerging as a strong trend.
China, as is well known, is the world's largest market for smartphones, with shipments growing 12 percent YoY in the September 2016 to 112 million units, according to Gartner. In 2015, China's smartphone market size was 416 million units.
India is the second-largest smartphone market, having dethroned the US in 2015 and had about 230 million users as of August this year.
Here are the highlights of the Nomura China Smartphone Outlook for 2017:

We see Chinese brands continuing to grow by 24% y-y in both 2016F and 2017F, thanks to their global expansion strategy.

The global market share of Chinese vendors expanded to 34% in 3Q16, from 27% in 3Q15. We highlight that Huawei performed well (share in Europe up from 6.1% to 11.2%, and in Latin America from 5.0% to 6.8%) while Oppo and Vivo also increased their presence in APAC, with their market shares reaching No. 4/No. 8 at 4.7%/2.9% during 3Q16.

We expect the top-10 Chinese brands to see further expansion in overseas markets in 2017F with 39% y-y growth.

The China market has turned into a story of "Romance of Three Kingdoms" – where only Huawei, Oppo and Vivo (all unlisted) still enjoy strong momentum.

According to the China Academy of Telecommunication Research (CATR), smartphone shipments already represent 92% of total shipments as of October 2016.

While 4G penetration reached 55% in November 2016, vs. 32% at the end of 2015, there is room ahead for 4G penetration to rise further.

We see two major trends for the China smartphone market: 1) dual camera has been confirmed as a positive for the entire camera module industry, mainly in terms of ASP uplift; and 2) fingerprint sensor penetration in China smartphone brands reached 34% in 1H16 vs. 16% in 2015.