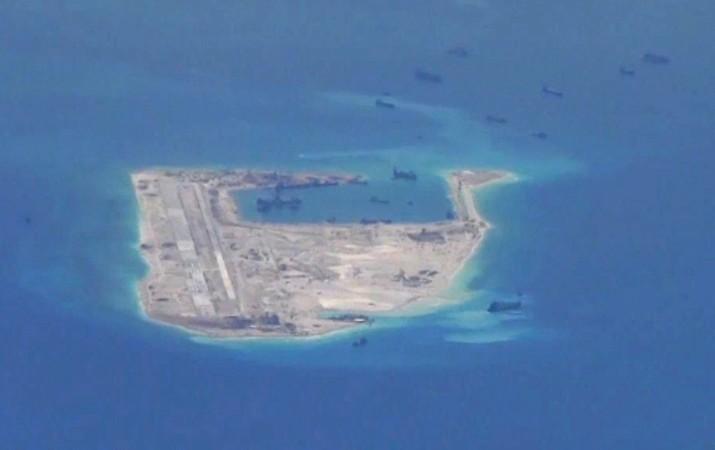 China seems to have installed a weapons system on all of the seven artificial islands the nation has built in the controversial South China Sea, a US think tank report stated on Wednesday.
The think tank cited new satellite images and said that the weapons system installed on the islands include anti-aircraft and anti-missile systems. The Asia Maritime Transparency Initiative (AMTI) at the Center for Strategic and International Studies has said that it has found evidence of a weapons system on the islands despite China claiming that it did not intend to militarise the region which falls on a strategic trade route.
The South China Sea dispute involves island and maritime claims in the region among several sovereign states around the area, including the People's Republic of China, the Republic of China (Taiwan), Malaysia, the Republic of the Philippines, the Nation of Brunei and the Socialist Republic of Vietnam. Many international non-claimant nations, however, want the South China Sea to remain as international waters considering a high proportion of world's trade passes through the region. The US also conducts operations around the sea to oversee the "freedom of navigation" in the region.
The AMTI has said that it has been tracking construction of hexagonal structures on Fiery Cross, Mischief and Subi reefs in the Spratly Islands ever since June and July this year. Reports state that China has already constructed a military length airstrips on the islands in the disputed region.
"It now seems that these structures are an evolution of point-defence fortifications already constructed at China's smaller facilities on Gaven, Hughes, Johnson, and Cuarteron reefs. This model has gone through another evolution at (the) much-larger bases on Fiery Cross, Subi and Mischief reefs," AMTI said citing satellite images taken in November which were given to Reuters.
The think tank also said that the images taken of Hughes and Gaven reefs showed structures which seemed like anti-aircraft guns and many close-in weapons systems (CIWS) for protection against cruise missile strikes.
"These gun and probable CIWS emplacements show that Beijing is serious about defence of its artificial islands in case of an armed contingency in the South China Sea. Among other things, they would be the last line of defence against cruise missiles launched by the United States or others against these soon-to-be-operational air bases," AMTI said.