China on Monday objected to President Ram Nath Kovind visiting Arunachal Pradesh on Sunday, saying that india should refrain from "complicating" the border dispute especially when bilateral relations are at a "crucial moment."
This is the latest incident of China objecint to the visit of an eminent leader to Arunachal Pradesh. Defence Minister Nirmala Sitharaman's visit to Arunacahal Pradesh earlier this month had elicited similar reactions from the neighbouring country.
China not happy with Kovind's visit
As China claims that Arunachal Pradesh is a part of South Tibet, it doesn't welcome visits by Indian leaders and top ministers to this north-eastern state. In fact, China claimed to rename six places in Arunachal Pradesh earlier this year, and since then these new names started to appear in Chinese maps.
"The Chinese government never acknowledged the so-called Arunachal Pradesh and our position on the border issue is consistent and clear," Chinese Foreign Ministry spokesman Lu Kang was quoted as saying by PTI.
In fact, it cited the same concerns it had raised during Sitharaman's trip earlier this month.
"China firmly opposes the Indian leader's relevant activities in the relevant region when China-India relations are at a crucial moment," Kang said, stressing the need for India and China resolving the disputes through diplomatic discussion.
Both countries are "in the process of settling this issue through negotiation and consultation and seek to reach to a fair and reasonable solution acceptable to all", Kang said.
What had China said about Sitharaman's tour
When Sitharaman had visited Army posts in the remote Anjaw district of Arunachal Pradesh soon after taking over as defence minister, China had raised objections to her trip, and even termed her tour of the "disputed area" not conducive to peace and tranquillity in the region.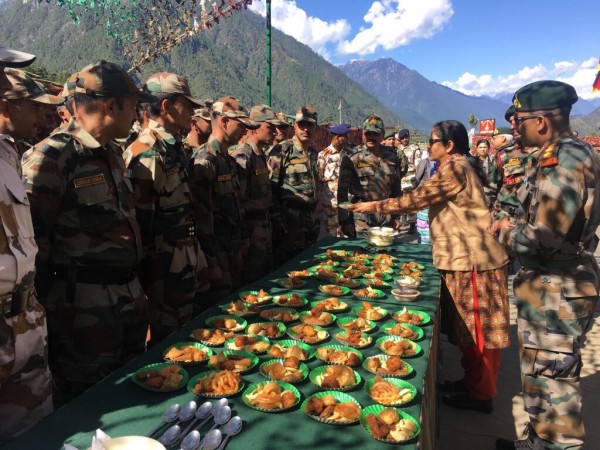 "As to Indian Defence Minister visit to Arunachal Pradesh, you must be very clear about China's position," Chinese Foreign Ministry spokesperson Hua Chunying had told reporters back then, adding that the two countries should engage in a discussion about border disputes.
"Hope India will work China for the shared goal, seek a solution acceptable to both sides and accommodate our concerns in a balanced way," Chunying had said.
Sitharaman had retorted that Arunachal Pradesh is an Indian territory and the opinion of others on the issue are of no concern for India. "What is the problem? There is no problem here. It is our territory, we will go there," she had said.