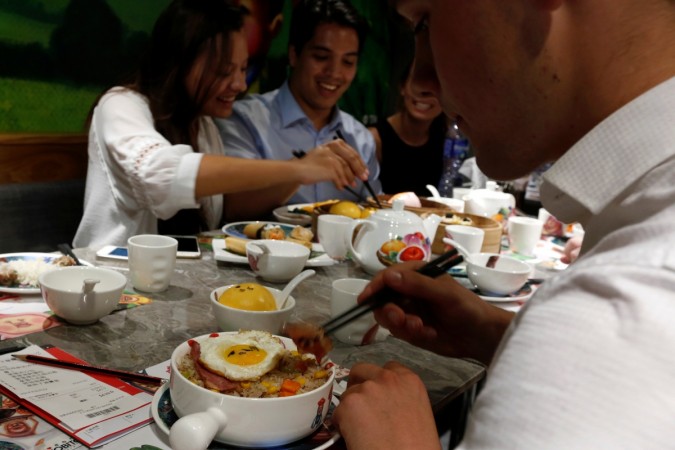 Most people would probably not have eaten this food item but it's a rage in China now. It's called the geoduck. It's not a duck but in fact, a large saltwater clam. And it's pronounced 'gooey duck'.
In China and Hong Kong, the geoduck has become such a rage that it can be seen everywhere. In fact, seafood restaurants now have them in aquariums so they cook it up fresh for their customers.
So what is this sea creature about? It looks like an important part of the male anatomy (phallic) and it's supposed to taste crunchy and sweet. The geoduck looks like an elephant trunk with two siphon holes like nostrils and one can go on to weigh more than 5 kgs. They can also reportedly live for more than 140 years. And it's considered an aphrodisiac too.
The geoduck is however not cultivated in China but it's farmed in the Pacific Northwest. Canada and northwestern parts of the United States are the areas which export the geoduck to China. In fact, a geoduck can be sold for as high as US$300 in China! But very Americans or Canadians actually eat this clam.
In December 2013, China had imposed a ban on the import of clams, geoduck, oysters, mussels, and scallops from the west coast of the US as they had high levels of paralytic shellfish poisoning. But the ban was lifted in May 2014.
How do chefs in Asia cook the geoduck:

In Japan, the geoduck or 'mirugai' is used for sashimi and sushi.
In Korea, chefs serve it raw, with hot chili sauce, or in spicy soups and stir-fries.
In China, it is mostly used in hotpots.
Recipe for geoduck sashimi:

INGREDIENTS

1 geoduck, about 8 ounces; Soy sauce and wasabi for dipping; 3 tablespoons butter; 2 tablespoons white wine, vermouth, or sake

DIRECTIONS

1. Bring large pot of water, about 8 quarts, to boil. Have large bowl of ice water ready. Place geoduck inside pot and boil briefly until skin of the trunk turns a shade darker, about 20 seconds. Using tongs, place the geoduck in ice water to stop cooking. Peel off skin by tugging it off the meat (a dry dishtowel can help to get a grip). Using a small boning knife, gently pry open shell and cut the meat away from the shell edges. Discard the sack next to the body.

2. To Serve the Trunk Sashimi-Style: Slice trunk thinly on a bias and dip in soy sauce and wasabi, or ponzu sauce.

3. To Sauté the Body Meat: Slice thinly on a bias. Heat butter in a 10-inch stainless steel skillet over medium heat until foaming subsides and butter is slightly browned. Add geoduck slices and wine and sauté for 5 to 10 seconds, until slices are just beginning to turn opaque. Season with salt to taste and serve immediately.

Source: seriouseats.com