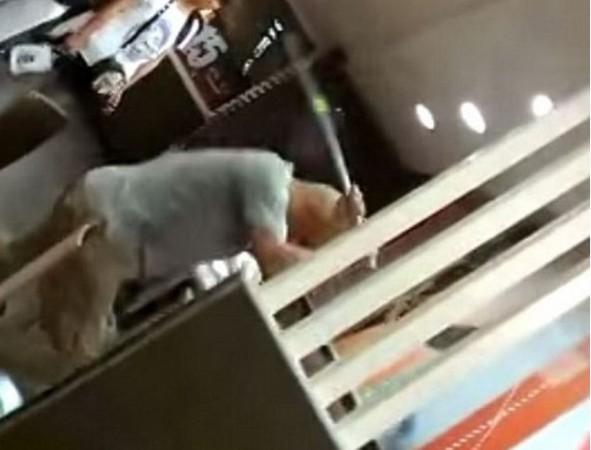 The murder of a woman at a McDonald's restaurant in China has sparked a nation-wide outcry after it was known that she was beaten to death simply because she refused to give her telephone number to members of a banned religious cult.
The horrifying murder was reported after a shocking footage emerged of the 37-year-old being beaten to death at the fast food chain restaurant.
The video of the incident, that reportedly took place last Wednesday, showed graphic images of a man striking the woman in the head with an iron bar, while onlookers are seen standing by and offering no help despite her screaming in pain.
There were conflicting reports on why the woman, named locally as Miss Wu, was attacked although state media have reported that the woman was attacked by a group of people who are described as members of the Church of Almighty God religious movement. The group was banned by the Chinese government after they preached that a global apocalypse would take place in 2012.
The attack was carried out at the restaurant in northeastern Shadong province and was captured by surveillance video, the official Xinha News Agency said in a commentary.
Six alleged members of the banned group, including 4 members of the same family, have been arrested over the attack, the state media reported.
"The audacity of the cult members to terrorize their victim at a McDonald's, a chain frequented by average Chinese, further racked people's nerves," Xinhua said in a report.
An eyewitness was cited by the British tabloid Mirror as saying, one of the men, known as Zhang was angry because the woman rejected his advances while other reports said the group wanted to recruit her as a member of their cult but she refused the proposal.
Apart from the shock and disdain over the horrific incident, many members on the social media condemned the onlookers who appeared to do nothing to save the woman.
"If I stay quiet today, who will help me cry for help when I suffer from misfortunes in the furture? One Weibo user asked. "If I don't speak up as a passerby, then one day, if injustice should come upon me, no one would speak up for me as well."
(With inputs from Reuters)