China continues to make ambitious announcements related to its space programmes. The latest to its list of upcoming projects is a space telescope, which will share the same orbit with the country's future space station, Yang Liwei, deputy director of China Manned Space Agency, announced on Tuesday.
The space telescope will be used to capture large-scale, multi-colour images of celestial objects and conduct more advanced spectroscope surveys to better understand the properties of light in outer space. The telescope will also be able to dock with the co-orbiting space station for various purposes, including refueling, maintenance and exchange, Xinhua reported.
China is scheduled to launch the core module of the country's manned space station in 2019, followed by the station likely getting into operation in 2022. The Chinese International Space Station (ISS) counterpart, which will orbit for at least 10 years, will have two more modules apart from the core module.
Each of the three modules will weigh more than 20 tonnes (20,000 kilograms), and will be structured in a T shape. The core module will be placed in the middle while the other two –experiment module I and experiment module II – will be placed on each side.
According to Yang, all the thee modules will be tasked to carry out various scientific experiments in multiple fields, including space life science and biotechnology, microgravity fluid physics and combustion and material science in space.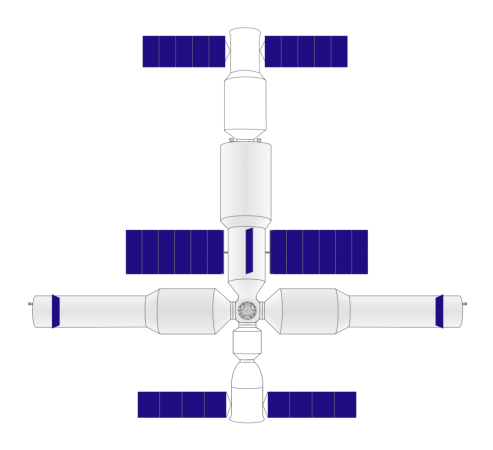 Yang also said that the Chinese space station, which will orbit 340 to 450 kilometres above the Earth's surface, will accommodate three crew members while it will have a maximum crew capacity of six, especially for rotation periods.
Local media report also reported last week that China would soon come up with a new space telescope called Hard X-ray Modulation Telescope (HXMT), which would scan the Milky Way galaxy to solve many mysteries of the universe.
The HXMT, which is claimed to be China's first X-ray space telescope, is expected to compete against other X-ray satellites like NASA's Chandra observatory, which was launched in 1999.
Yang's announcement for the future space telescope comes at a time when China's preparations for a manned mission to the Moon have raised many eyebrows, especially since it is announced almost half a century after the first manned lunar mission in 1969.
Although there is no latest information on when China is planning to kick-start its trip to the Moon, a government official reportedly said last year that the country wants to put astronauts on the lunar surface by 2036.