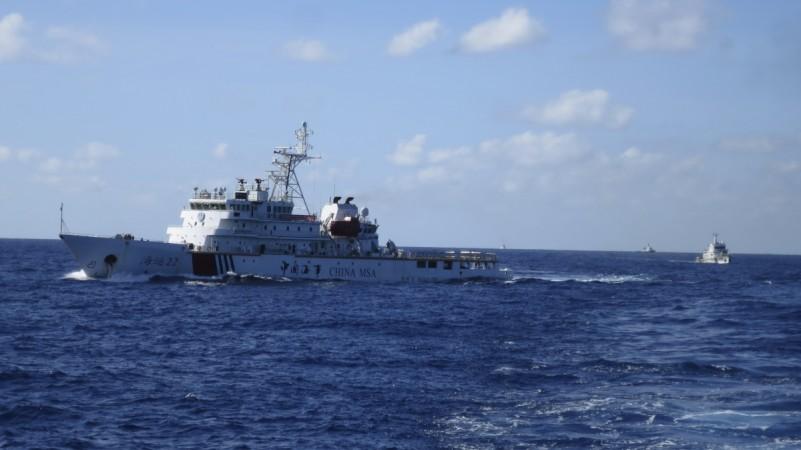 Despite escalating tensions in the South China Sea, China has allegedly installed ships blocking access to an atoll, which is hampering the livelihood of Filipino fishermen, an official said Wednesday.
The country stakes claim over the South China Sea area and has begun militarising it. China recently placed surface-to-air missiles in the disputed region. Various East and South-East Asian countries claim territory in the region. China and Taiwan, however, assert ownership over majority of the area, which has led to conflict.
China allegedly deployed seven ships at the Quirino or Jackson Atoll, Eugenio Bito-onon Jr, the mayor of nearby Pagasa Island in the Spratly Islands, told Reuters. Spratly Islands, which is rich in natural resources and links North Asia to South Asia, the Middle-East and Europe, is the most-contended archipelago in the South China Sea.
"This is very alarming; Quirino is on our path when we travel from Palawan to Pagasa. It is halfway and we normally stop there to rest," Bito-onon Jr said.
"I feel something different. The Chinese are trying to choke us by putting an imaginary checkpoint there. It is a clear violation of our right to travel, impeding freedom of navigation," he added.
Fishermen were last week reportedly chased away from the atoll by Chinese boats.
The Philippine Army is yet to confirm the presence of Chinese ships in the area. However, a military source told Reuters a surveillance plane saw four to five Chinese ships near Jackson Atoll, but it wasn't confirmed if they were stationed there or were passing through, as China is building an island in the nearby Mischief Reef.
Meanwhile, the U.S. warned China against militarisation in the area Tuesday.
"China must not pursue militarisation in the South China Sea," Reuters quoted U.S. Defence Secretary Ash Carter as saying. "Specific actions will have specific consequences." Carter also said that the U.S. military would increase deployments in the Asia-Pacific region.
The U.S. has also carried out exercises in the region to assert freedom of navigation in the area. The country intends to perform more complex such exercises in the future, U.S. Navy officials told Reuters.
Earlier this month, China had also accused the U.S. of militarisation of the area by sending navy ships and military aircrafts.