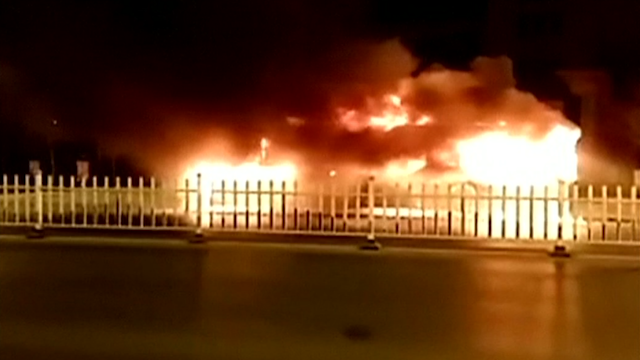 A bus fire on Sunday resulted in the death of at least 35 people, while 20 were injured in central China, according to reports by Chinese state broadcaster CCTV. Initial reports had said 30 people had died in the accident.
According to a report by Associated Press (AP), the bus was a long-distance one, and the accident happened when the bus crashed into the guard-rail by the side of the road. The accident took place at 10:20 a.m. local time, the AP report said.
The bus that was engulfed in flames had 55 people on board, and no other vehicle was involved in the accident.
The fire in the tour bus may have been caused by oil leaking from the vehicle after the accident in the in Yizhang county of Hunan province, China's state-run news agency Xinhua said in a report.
A video posted on by CCTV on YouTube shows the charred remains of the bus as locals try to call for help. The video initially shows thick smoke coming out of the bus and later its charred remains.
According to another Xinhua report, state councillor Guo Shengkun has ordered for all-out efforts to be made to ensure the death toll does not go up. He has also reportedly ordered that the cause of the accident be identified, and the authorities concerned take appropriate measures to prevent the recurrence of accidents like this.
The AP report quoted the Hunan provincial highway police bureau as saying on its microblog that it had detained 41-year-old Liu Dahui, the driver of the vehicle, for interrogation.
An Agence Frence-Presse report quoted a World Health Organisation study as saying that such accidents are common place in China, and at least 250,000 people die in road accidents every year in the world's most populous country.