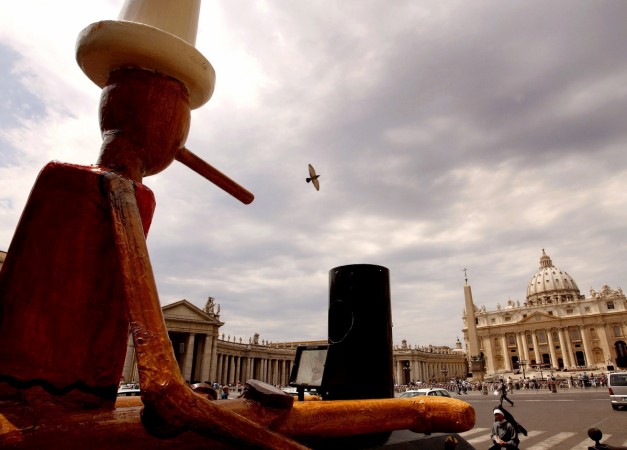 Who hasn't read about the wooden puppet Pinocchio, who wished to be a "real, live, boy"? In the popular children's tale, Pinocchio has an uncanny condition, his nose keeps growing every time he lies!
Japan in its own usual unique way has released a new version of Pinocchio and unlike his Italian namesake, it is not his nose that grows in accordance with his lies, but his penis.
Needless to say, the cartoon comic book is not meant to be stacked up amongst children's stories as it graphically represents Pinocchio's elongated penis. The cover of the book, which was posted in Weird Asia News, shows Pinocchio running through a public space with his elongated penis stretching ahead of him and a shocked crowd, including a police officer with a baton, a cat and couple of kids running behind him.
https://t.co/emrbvmEnhu Japan Releases New Version of Pinocchio #CHINAnow pic.twitter.com/jViNwMQLbm

— .CNnow (@CHINAnowApp) November 29, 2014
While in one page Pinocchio's private part is seen hanging out of a taxi cab with a startled police officer agape, in another a little girl is seen showing him the direction in which his penis has travelled. Pinocchio and a group of curious citizens are seen following the ridiculous penis through a busy café, ahead of a band of marching soldiers, a scandalised priest and a choir.
Almost the entire town is now following the legendary penis and its owner, and a news crew is seen interviewing Pinocchio as he tracks it down. The book ends with a semi-naked Pinocchio with a regular-sized penis sitting on a man's shoulders as everyone breathes in relief. After a tiresome day of running behind his penis Pinocchio goes to sleep.
In the original "The Adventures of Pinocchio", written by Italian writer Carlo Collodi, Pinocchio was a wooden puppet made by the woodcarver Geppetto in a tiny village. Pinocchio, who dreamt of becoming a human boy, had a nasty habit of lying constantly and when he did, his normally small nose grew in size.
The character became so popoluar among children and adults alike that Walt Disney made an animated musical fantasy film titled "Pinocchio" in 1940.