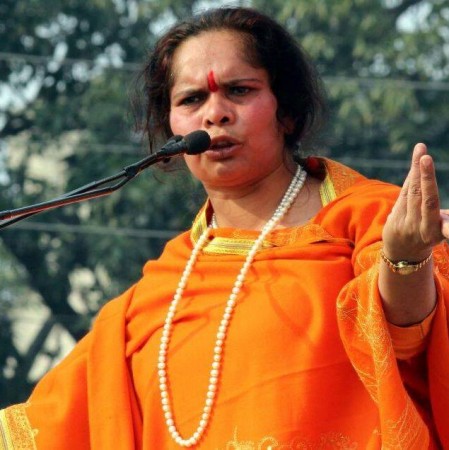 Bharatiya Janata Party's leader and preacher Sadhvi Prachi has created another controversy by stating that Hindus should boycott the movies starring Bollywood's three Khans.
In her statement, Prachi claimed that Khans' movies promote "love jihad". The statement was made on Sunday in Dehradun when Prachi attended a meeting of the right wing organisation, Vishva Hindu Parishad.
"Our children do not get right sanskars from the movies of the Khans. They promote love jihad," she said, according to Hindustan Times.
"Love Jihad was not a form of inter-religion marriage but a forcible change in one's beliefs with criminal intentions. Hindu organisations will never tolerate this," she added.
She also requested that Hindus should avoid putting posters of the Khans on their walls.
Not only Khans, she also picked on Congress leader Rahul Gandhi and said that he should marry an Indian girl. She also repeated BJP MP Sakshi Maharaj's comment that Hindus should have more children.
"The population of Hindus is on the decline. They must have more children to maintain a balance (between communities) in the country," she said.
Prachi received flak when she backed Sakshi Maharaj's comment about the Hindus having four kids.
"When I made the remarks, it was as if the country was hit by a quake. The media said you have sparked an uproar with your remarks on four children. I said I have only advocated four children for Hindus not 40 puppies...And it is important because the country needs it," Prachi said in February, according to Firstpost.