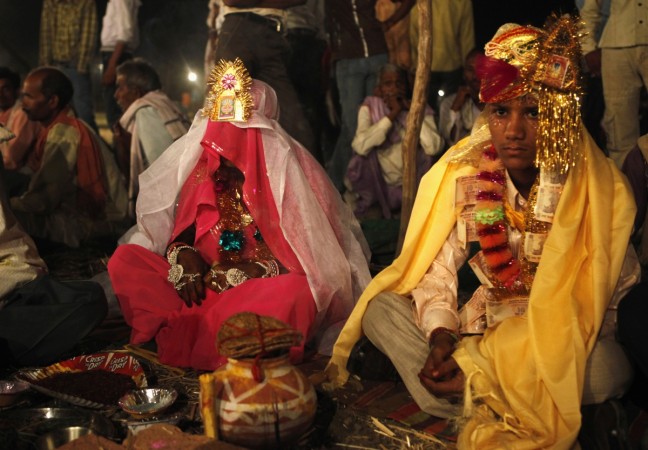 Despite several awareness programmes and strict laws against child marriages, a new study reveals that the practice of human rights violation continues to remain widespread in Andhra Pradesh. Over 1.70 lakh child marriages have been reported in the state in the past two years.
According to National Family Health Survey (NFHS) conducted in Andhra Pradesh, Krishna district topped the list of child marriages. Over 20,000 minor girls, who were married off in 2015 and 2016, hail from Krishna district.
Child Marriage Should Be Legal: Pakistani Legal Advisory Body
Krishna was followed by the districts of Anantapur (16,738), Visakhapatnam (16,876) and Chittoor (15769).
According to the 2011 census, NFHS revealed that around 47.4 percent of the women aged 20-24 got married before they attained 18 years. Similarly, 32.3 percent of men aged between 25 and 29 got married before their legal age of 21. In the overall population, 2.4 percent of girls were reportedly married off before 18 years and 2.5 percent of boys before 21 years.
In order to chalk out grass root solutions, the National Commission for Protection of Child Rights (NCPCR) in collaboration with Young Lives India conducted a state-level consultation meet on Thursday to discuss child marriages with the government departments and NGOs concerned.
The NCPCR members and experts pointed out that lack of awareness among people, social stigma and economic backwardness are the main reasons for child marriages especially in rural India.
According to local media reports, S Balaraju of State Commission for Protection of Child Rights (SCPCR) said that child marriages are happening especially in hamlets and in rural areas where there is an absence of higher education. He also added that child marriage rate is high among illiterate families in the state.
Balaraju has also pointed out that apart from ranking first in regard to marriages of minor girls, Krishna district also stood first in male child marriages with 19,557 boys getting married before the age of 21, followed by Kurnool, Visakhapatnam and Anantapur.