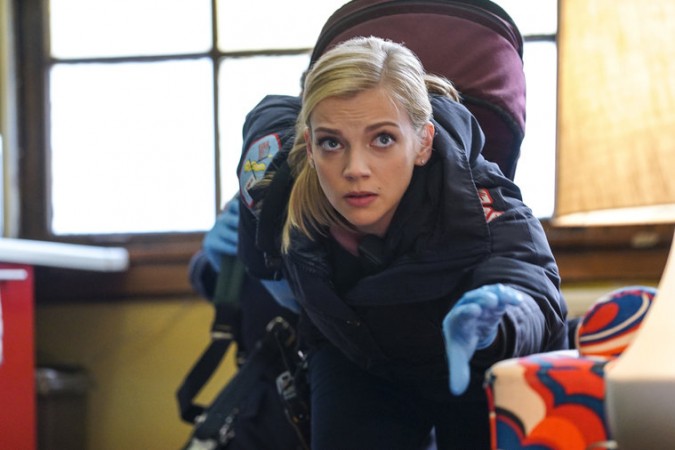 The crossover story between NBC's "Chicago Fire" and "Chicago P.D." continues in the upcoming episode titled "The Sky is Falling" of "Chicago Fire" as Jimmy represents Firehouse 51 in a boxing match against Chicago P.D.'s 21st District.
CLICK HERE to watch whether Jimmy wins the match against 21st District or not in the upcoming episode.
The synopsis by TV.com states that the team responds to a mass shooting, while Casey investigates the missing money from the fund-raiser.
In the mean time, Jimmy agrees to represent the firehouse in a boxing match against the Chicago PD's 21st District and Chili's behaviour continues to be an issue for Brett.
After a series of mysterious threats emerging everywhere in Chicago, the firehouse is on high alert. The situation gets tensed when a few members of the firehouse, on a rescue mission, got trapped in the middle of a horrific scene where a mass shooting has taken place.
Elsewhere, Lt. Casey (Jesse Spencer) works hard to investigate the missing money that was supposed to be donated to victims of the recent tornado.
In the meanwhile, Jimmy (Steven R. McQueen) agrees to represent the firehouse in the first annual boxing match titled "Battle of the Badges" against the police department of 21st District.
Chili (Dora Madison) is still irritating and annoying her ambulance partner Brett (Kara Killmer) with her erratic behaviour, and Brett desperately tries to find a way to put a stop to it.
In the previous episode titled "Not Everyone Makes It," Brett met Boden and complained to him about Chili's erratic behaviour. She also told him that with such an attitude, Chili might not be fit for the concerned job.
Meanwhile, Herrmann testified against Freddy about his near fatal stabbing and blamed him for letting it happen.
Elsewhere, Casey helped out people affected by the devastating tornado and tried to manage shelters for them. The aftermath of the disaster left him perplexed and terribly sad.
At the end of the episode, Severide helped out an agent who was investigating a homicidal case.