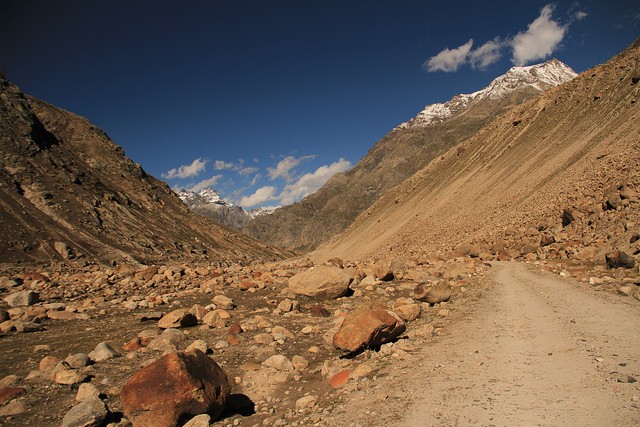 Imagine yourself staying in the last inhabited village in India which is surrounded by a vast expanse of the mountainous region beyond which lies Tibet – the land under occupation of China. This is the kind of experience you can have easily by travelling just 28 kilometres from Sangla, a popular tourist town in Kinnaur District of Himachal Pradesh.
Chhitkul is situated at an altitude of more than 11,000 ft and remains disconnected with rest of the country during the winter season because of heavy snowfall. Every year, during the winters, the villagers migrate to low-lying areas and then move back to their homes when the snow melts.
Travelling to Chhitkul from Delhi is easy. You can take a direct bus to Sangla and then stay there for a couple of days exploring the nearby places. You can visit the popular Bering Nag Temple and see for yourself the amalgamation of Indian and Chinese culture representing itself in the unique architecture and design on the temple.
Local buses leave for Chhitkul from Sangla on an everyday basis provided the weather and road condition is suitable. The village is a popular tourist destination and therefore has a number of options for a comfortable stay. The popular India backpackers hostel chain Zostel also recently opened up a hostel in Chhitkul. The view of beautiful Baspa River from your hotel room makes the experience even better.
Apart from this latest addition to Chhitkul, the rest of the village still remains oblivious to most of the modern-day amenities like a proper telephone network, internet or good hotels. Basically, travelling to Chhitkul might feel like travelling back in time as you sit on your hotel terrace and look at the gigantic mountains around you and listen to the noise of Baspa River.
A trip to Chhitkul can be planned as a part of a road trip to Spiti Valley through Kinnaur or you can also visit the nearby places like Reckong Peo and Kalpa to keep your visit short. Chhitkul is the right place for you if you are looking to relax at an exotic place.