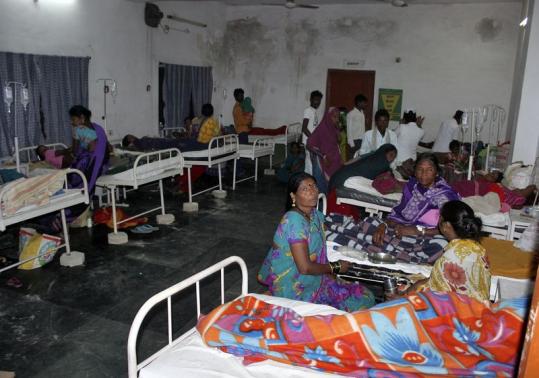 Doctor RK Gupta, who conducted the sterilisation surgeries on 83 women in a government camp in Chhattisgarh's Bilaspur district, has been arrested.
After all the surgeries performed at Nemichand Jain Cancer and Research Centre in Takhatpur's Pendari village on Saturday failed leading to the death of 13 women, the state Chief Minister Raman Singh ordered Gupta's suspension, according to Zee News.
Later an FIR was also filed against him and he was arrested from the Baloda Bazar area. Gupta, who has done over 50,000 sterilisation surgeries since 1987, said that the women died because of toxic medicines and none of them showed symptoms of infection from rusty equipments or poor sanitary conditions.
"We do as much sanitation as possible—the guidelines say to clean as necessary," Gupta said.
Denying that there had been any case of infection due to contaminated instruments, Gupta said, "if there had been an infection, there would've been symptoms. Death wouldn't have happened so suddenly."
The autopsy had reportedly certified that the deaths occurred because of spurious medicines, while preliminary enquiry into the incident had suggested that rusty instruments were used to perform the surgeries.
"They can't blame me for murder. What happened is beyond our imagination. We didn't even know anything was wrong until one patient suddenly died," Live Mint quoted Gupta as saying.
Government Medical official too confirmed that there were no signs of infections and hinted at "flawed antibiotics and painkillers" given to the 83 women as the cause behind the deaths.
Another Botched up Sterilisation Surgery?
A similar incident has occurred in another sterilisation camp where Dr KK Rao had performed surgeries. In this latest incident, 17 women have been admitted to the hospital in critical condition, while one has died.
Rao said that these patients were given medicines from the same batch, which was used in Gupta's camp. "The patients who got medicine from the same batch are either in the hospital or dead," he said.
"A tribal woman Chaiti Bai (34) operated at a camp in Pendra block on Monday died while being brought to Bilaspur this evening," Bilaspur Division Commissioner Sonmani Borah told PTI.