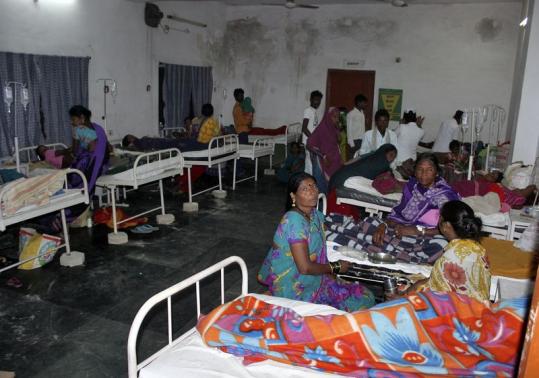 In a shocking revelation in one of the major medical botch-ups that the country has seen, government officials said that fake medicines and rusted instruments were used during the sterilisation surgery of at least 83 women, of which 13 have lost their lives at the family planning camp organised in Chhattisgarh's Bilaspur district on Saturday.
"Preliminary reports show that the medicines administered were spurious and also the equipments used were rusted," senior local government official Siddharth Komal Singh Pardeshi told Reuters.
On the state government's request, AIIMS has sent a team of doctors for the treatment of at least 50 more women admitted in Bilaspur hospital, according to IBNLive. While the actual cause behind the incident is being investigated on the orders of state health officials, preliminary investigation report has suggested that the 13 women lost their lives probably because of septic shock as the doctors performing the operations violated the guidelines.
Joint Director of Health Department Amar Singh Thakur said the septic shock was triggered by infected surgical equipment used to perform tubectomy on 83 women. The government guidelines state that single operating equipment – laparoscope – must be used only on 10 women and must be sterilised after every operation, according to The Indian Express.
However, the team is believed to have violated the guidelines, due to which 13 of the 83 women lost their lives, while at least 50 are undergoing treatment.
During the investigation, the suspended doctors have confessed to rushing through the medical procedures to meet the yearly targets set by the government.
One of the suspended officials, Block Medical Officer Pramod Tiwari said that though their daily target was 40, the medical team performed surgeries on nearly twice the number of women at the government-run Nemi Chand hospital in the Pendari area of Bilaspur district, NDTV reported.
For their negligence and violation of medical guidelines, state Chief Minister suspended four doctors including supervisor Dr RK Gupta, RK Bhamge and Tiwari.
After expressing grief over the incident, Prime Minister Narendra Modi has sent four medical teams from Delhi to Bilaspur and has asked them to carry out a "thorough investigation and action in the entire issue."
The incident became a matter of grave concern for the United Nations as well, as the doctors' negligence put 83 lives at stake. The UN has warned of strict actions against those accused of violating medical norms.
"If the facts are confirmed, then a grave human tragedy has occurred. Where there is deviation from clinical standards, there must be consequences," Deputy Executive Director of the UN Population Fund Kate Gilmore said.