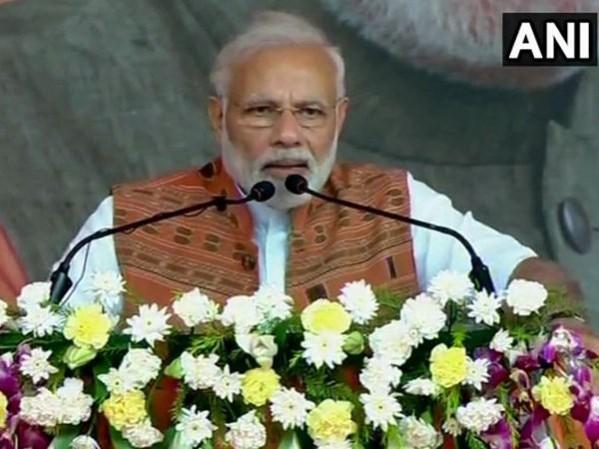 Prime Minister Narendra Modi addressed a public meeting in Jagdalpur in poll-bound Chhattisgarh on Friday. It was his first election rally in the state.
"Urban Maoists live in air-conditioned houses, roam around in fancy cars, their children study abroad, but they ruin future of our tribal youth here and disrupt peace," said Modi while addressing the rally in Jagdalpur.
"We have made all efforts to strengthen Bastar region. We have worked towards enhancing the quality of life of people here,' added PM Modi.
"Governments were formed earlier also, political leaders used to come, but they used to come with an ideology of 'me, my caste, my community'... but we changed this scenario with our mantra of sabka saath sabka vikaas," said PM Modi.
In addition to Prime Minister, Congress president Rahul Gandhi is also visiting the poll-bound state for two-days. He is scheduled to hold a roadshow in Rajnandgaon and address five rallies.
Rajnandgaon is the constituency of Chief Minister Raman Singh. This time state the CM is contesting against Congress candidate Karuna Shukla, niece of the late prime minister Atal Bihari Vajpayee.
Other than roadshow in Rajnandgaon, Gandhi's itinerary includes a rally in Pakhanjore town of Kanker district at noon, public meetings in Rajnandgaon district's Khairgarh and Dongargarh towns.
He will also meet party workers in Jagdalpur, the headquarter of Bastar district. Charama (Kanker district) and Kondagaon are other locations in the state where Congress president is scheduled to address rallies during his visit to the state.
A total of 1,291 candidates are in the fray for the two-phased state polls, scheduled to take place on November 12 and 20. The campaigning for the first phase will end on Saturday.
Vote count for 90-member state assembly will take place on December 11. 18 Maoist affected districts will vote in the first phase. Most of them (12) are Scheduled Tribe seats while one is a Scheduled Caste-reserved seat. The ruling BJP suffered set-back in Maoist affected areas in 2013 assembly elections.
"Governments were formed earlier also, political leaders used to come, but they used to come with an ideology of 'me, my caste, my community'... but we changed this scenario with our mantra of sabka saath sabka vikaas": PM Modi in Chhattisgarh

Watch LIVE: https://t.co/hMlRpgrUU6 pic.twitter.com/MC58Mr3qy9

— NDTV (@ndtv) November 9, 2018