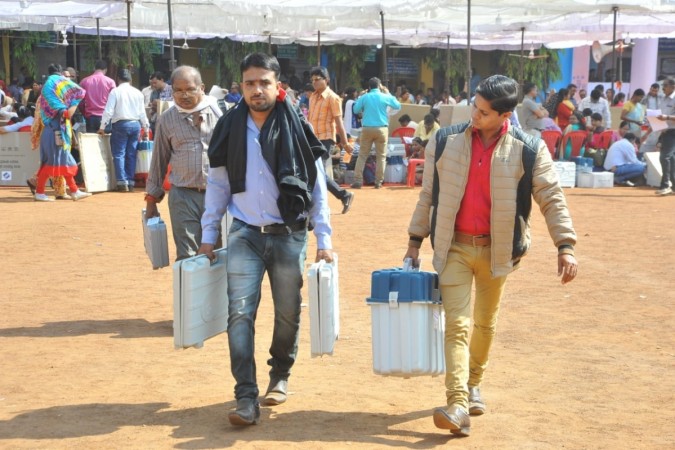 The second phase of the Chhattisgarh assembly elections began on Tuesday at 8:00 am.
The security was beefed up in the Naxal-affected regions of the state following multiple attacks by Maoists over the past month.
Over 19,296 polling booths have been set up for the 72 constituencies across Chhattisgarh.
However, polling in a few regions were paused after the electronic voting machines (EVMs) stopped working. This happened in Urumduga polling booth in the Baikunthpur Vidhan Sabha and Bharatpur Sonhat Vidhan Sabha.
Live Updates
2018-11-2015:39 (IST)
Voter turnout till 2:55 PM
The total voter turnout till 2:55 PM was recorded as 45.2 percent.
2018-11-2013:31 (IST)
Chhattisgarh CM Raman Singh casts his vote
2018-11-2013:03 (IST)
Voters' names missing
As the polling is underway in many districts of Chhattisgarh, many voters have discovered that their names are missing from the voter's list.
In Boriakala in Raipur, over 1100 names are missing. According to Firstpost, 99 names are missing in Booth 243 while 1061 names are missing in Booth 244.
2018-11-2012:42 (IST)
Voter turnout till 12 noon
A total of 25.2 percent people voted will 12 noon in Chhattisgarh.
2018-11-2011:53 (IST)
Rajyavardhan Rathore urges everyone to vote
Minister of State for Youth Affairs and Sports, Rajyavardhan Rathore requested everyone in Chhattisgarh to vote.
He tweeted, "Your vote is your voice. I urge all the voters of Chhattisgarh to come out and cast their vote. Your vote will decide the future of Chhattisgarh!"
Your vote is your voice. I urge all the voters of Chhattisgarh to come out and cast their vote. Your vote will decide the future of Chhattisgarh!

— Rajyavardhan Rathore (@Ra_THORe) November 20, 2018
2018-11-2011:50 (IST)
'Congress wil come back to power,' says Congress leader Veerappa Moily
"We are definitely returning to power in Chhattisgarh after a gap of 15 years because there is a very strong anti-incumbency wave against the Raman Singh and Narendra Modi governments in the state and at the Centre," Senior Congress leader and former union minister Veerappa Moily told PTI.
2018-11-2011:48 (IST)
Prime Minister Narendra Modi urges people to vote
In a tweet, PM Modi urged the residents of Chhattisgarh to vote. He said, "Today is the second and final phase of the vote in Chhattisgarh. I request all the voters to vote in a huge number with full enthusiasm to make democracy a success."
छत्तीसगढ़ में आज दूसरे और अंतिम चरण का मतदान है। सभी मतदाताओं से मेरा निवेदन है कि वे पूरे उत्साह के साथ भारी संख्या में मतदान कर लोकतंत्र के महापर्व को सफल बनाएं।

— Narendra Modi (@narendramodi) November 20, 2018
2018-11-2011:41 (IST)
Polling booth at Kawardha in Kabirdham district.
2018-11-2011:40 (IST)
Voting record till 10 AM
A total of 12.54 percent voting has been recording in Chhattisgarh till 10 AM on Tuesday. the voting started at 8 AM and will go on till 5 PM.
this is the second and final phase of polling in the state.
2018-11-2011:38 (IST)
Congress leaders meet Elections Commission in Delhi alleging tampering of EVMs
A group of Congress leaders, led by PL Punia met the Election Commission in Delhi claiming that the EVMs used for the Chhattisgarh polls have been tampered.
On Tuesday, there were multiple instances across Chhattisgarh, of the machines malfunctioning, bringing the voting process to a halt.
2018-11-2011:14 (IST)
Visuals of voting art Pendra from Bilaspur
2018-11-2011:13 (IST)
Polling underway at Ambikapur
2018-11-2011:12 (IST)
Ajit Jogi and his son Amit Jogi cast their votes
2018-11-2011:09 (IST)
BJP candidate detained on Monday night
BJP candidate Siddhnath Paikra contesting from Samri was caught by the Chhattisgarh police for carrying Rs 2 lakh in cash while he was travelling in his vehicle on Monday night.
2018-11-2011:00 (IST)
Voting in Jashpur hasn't begun due to faulty EVMs
Polling in Jashpur and other parts of Chhattisgarh hit an obstacle due to malfunctioning Electronic Voting Machines (EVMs).
Other places with malfunctioning EVMs are Dhamtari, Mowa and Raipur. Firstpost reports that the machine stopped working after only 30 votes were placed.
2018-11-2010:51 (IST)
Family affair for Ajit Jogi at Chhattisgarh polls
Former Chhattisgarh chief minister Ajit Jogi is standing for polls from Marwahi while his wife Renu, is contesting from Kota. Jogi's daughter-in-law Richa is contesting with a Bahujan Samaj Party ticket from Akaltara seat.
Jogi, the former Congress leader, served as the chief minister of Chhattisgarh for three years before he formed his own party, Janata Congress Chhattisgarh.
One month ago, Jogi gave Congress a shock by aligning himself and his party with the Mayawati-led Bahujan Samaj Party (BSP) and the Communist Party of India (CPI).
2018-11-2010:47 (IST)
BJP, Congress, and the BSP-CPI alliance battle it out for Chhattisgarh
The Bharatiya Janata Party, Congress and the Ajit Jogi-BSP-CPI alliance are fighting for 72 seats across 19 districts.
BJP and Congress are contesting in all the 72 seats. BSP are fighting for 24 seats while the Jogi-led Janata Congress Chhattisgarh are competing for 46 seats.
Aam Aadmi Party has candidates competing in 66 constituencies.
2018-11-2010:37 (IST)
Pink booths allocated for women
Special pink polling booths exclusively for women have been set up in Jaspur to encourage more people to vote.
2018-11-2010:35 (IST)
Voters boycott elections in Bhatgaon constituency
Not a single voter showed up at the Bhatgaon constituency for polling on Tuesday. They are protesting over the lack of development in the region.